cc licensed ( BY NC ND ) flickr photo shared by World Bank Photo Collection
The dream behind the Web is of a common information space in which we communicate by sharing information. Its universality is essential: the fact that a hypertext link can point to anything, be it personal, local or global, be it draft or highly polished. There was a second part of the dream, too, dependent on the Web being so generally used that it became a realistic mirror (or in fact the primary embodiment) of the ways in which we work and play and socialize. That was that once the state of our interactions was on line, we could then use computers to help us analyse it, make sense of what we are doing, where we individually fit in, and how we can better work together.
— The World Wide Web: A very short personal history by Tim Bernes-Lee May 7, 1998
Example Number 448356-87Jz-1101b
Maria Popova publishes in her ever so valuable Brain Pickings blog this piece Illustrated Six-Word Memoirs by Students from Grade School to Grad School. She describes how in 2006 publisher Larry Smith published a challenge in his magazine for the famous six word Hemingway story, "How would you tell your life's story if you could only use six words?". Smith's most recent book Things Don't Have To Be Complicated: Illustrated Six-Word Memoirs by Students Making Sense of the World and Popova includes examples from that book of visual six-word autobiographies made by students aged 8-35.
The six word story resonates much with ds106, the open digital storytelling course. Jim Grom picks up on this and shares the Brain Pickings link via twitter
RT @brainpicker: Illustrated six-word memoirs by students from grade school to grad school http://t.co/8xW3TTKq #6wordstory twist? #ds106

— Jim Groom (@jimgroom) February 17, 2013
Because Jim is #4life he creates a ds106 design assignment based on this, with links back to Brain Pickings as an example and for giving credit.
"Six-Word Memoir" assignment has been submitted to #ds106 http://t.co/adCmIHdz Now to do one.

— Jim Groom (@jimgroom) February 17, 2013
Because ds106 is part of a syndicated network built of the same bits as the web itself, as participants in ds106 blog their responses to the assignment they show up on tis page as an example, plus one free formed entere for the Six Word Minneapolis art project.
One of the syndicated posts comes from Stefanie Jeske an open ds106 participant from Germany (I surmise). I recognize her name from a few tweets and having fixed some issue with her blog feed; with some casual awareness I know she has been some ds106 assignments.
More than some. She has done 22 assignments so far, and is doing as much work as my enrolled students.
Her Six Word Memoir is called Creating Life. She combines a real water color painting with her six words traced in and then digitized back to the computer:
Stefanie's words move me:
How would you tell your life's story if you could only use six words?
This is the question which was asked in the ds106 assignment "Six-Word memoir".

Yesterday I came back home right from a talk with a German official and they directly told me to rather give up hope to ever have a job in the creative professions. They want me to sell things or to work in a warehouse or maybe clean up other peoples dirt. I would die. I was just sad about this talk.

However, this was the right moment to create what is deeply true for my life.
Whatever misfortune. Creating brought life back.
Maybe I will stop and let that sink in.
How more important can it be for individuals to be able to create and express themselves in an open space?
We do not know Stefanie nor her situation; what we know is her art filled blog as a window looking in, and through it, she looks out. And the idea of someone burning to create being told her place in the world is in sales or pushing a broom in a warehouse? Is this 2013?
I also do not know much of anything about Maria Popova, except I adore her Brain Picking. She does not have comments, so I found an email link and sent a message: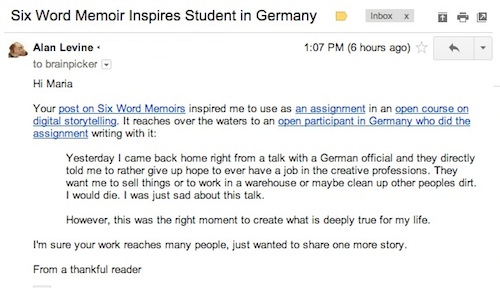 I've never written her before, she does not know me. In 31 minutes a reply hits my inbox:
Maria Popova
1:38 PM (5 hours ago)

Oh Alan, what a wonderful story — thank you so much for putting a smile on my day!

Waving from Brooklyn,,

// maria

—
http://www.brainpickings.org
Tweets by brainpicker

iRush and iMistype
And that, in a way, takes this example full circle back to where it started.
This is nothing earth shattering, no one is going to do a meme-crazy dance on YouTube about it. This happens countless times a day, and so few people seem to notice or marvel. It is a series of connections that are not automated, not data driven, not obligated. It branches and makes other connections. It had me look more at a person's web site in Germany and both marvel and wonder about her story.
If this seems "ho hum" no big deal to you; that's okay– but for me these are the every day little bits of magic that make the web as magical as the day over 19 years ago when I launched a program called Mosaic and clicked a blue link.

cc licensed ( BY NC ND ) flickr photo shared by Phae
This is the web we make and should not break. This is the one that may or may not persist for others to appreciate if we do not keep it as it was intended.
a realistic mirror of the ways in which we work and play and socialize. That was that once the state of our interactions was on line, we could then use computers to help us analyse it, make sense of what we are doing, where we individually fit in, and how we can better work together.
If that is not important and worthy, then I do not know what is.