cc licensed ( BY SA ) flickr photo shared by cogdogblog
I'm back almost a week from an incredible and intense and fantastic three week trip to Japan, Singapore, and Hong Kong — all pretty much enabled by network connections among nice people.
So much happened I had to make a spreadsheet to help me organize the sessions I did at least 30 workshops, presentations, consultations, and class visits. Beyond the snafus of US Failways on the trip over, catching and somehow warding off the Cog Dog Cough Wog in week 1, keeping tabs on my ds106 class– the blogging fell off the table.
I'm not sure I am ready to be the Roving Presentation Dude. I'm worn flat.
A number of sessions were re-purposed, but never carbon copies, and most of them evolved along the way- many variations of Web Storytelling sessions from 20 minutes to 3 hour workshops, morphing into one on Elements of Storytelling (what works), the tools stuff (50 Ways, Five Card Flickr Stories, pechaflickr, ds106); another one where the code name was "The Web is a Groovy Place" with flavors to include the True Stories of Openness or the value of Sharing in a Networked Environment; a new one on visual metaphors and strategies for finding photos, and a string of brand new workshops / class activities.
For a fresh change of environment, I did more stuff with k-12 on this trip than usual, everything from doing a storytelling activity with 2nd graders to a 6th grade math activity to discussing internet culture with 10th graders, not to mention the interaction with the 130+ international students and teachers who were part of the Flat Classroom Conference.



cc licensed ( BY SA ) flickr photo shared by cogdogblog
So to start the recap, in three parts, or three countries, in three weeks – Week 1: Yokohama, Japan. The first two days were activities organized by the amazing Kim Cofino at Yokohama International School. I will start a regular disclaimer that I am almost certain to leave out the many key people I met. Can I cover you with one big, thanks to all 'y'all?
Here we go. Week 1. I might tax Hippie Hosting's disk drive with just this post (just kidding, Tim!)
My first thing at YIS was an invited "Passions Talk" for 5th grade students, a chance to share something I am passionate about and for them to ask questions. I decided to talk photography, and one of the teachers asked if I could show some photos. So I went to my flickr stream and just started scrolling through the ones that would have been taken in Arizona the day I left. The kids kept asking questions about the ones around where I live, and I lost track of how many screens worth I went back. The one that got the most curiosity was of course one of a Javelina.
Next was a session for two sections of grade 10 English students– a new piece I called Upping Your Image Quotient on finding images for blogging or projects, talking up creative commons, and how these searches (with tools like compfight) often require an indirect approach– it's a somewhat iterative process where you need to think of action words, or ones that suggest rather than define. The students then went to work trying their hand using a recent project where they researched an "unusual" word (e.g. defenestration). They did really well at this, even the young man who had what should be a simple word "defecate" he went beyond the literal.
Then was maybe the most way out challenge I have had in a while, I was asked to devise a story telling activity for 2nd graders. It dawned on me when I got to the classroom that the last time I did anything with grade 2– I was one of them! What would I do? I riffed off of a classic ds106 assignment that other educators have already shown works well with elementary school students- the four icon challenge.
Modified of course – I called it Telling a Story in 4 Pictures and 4 Sounds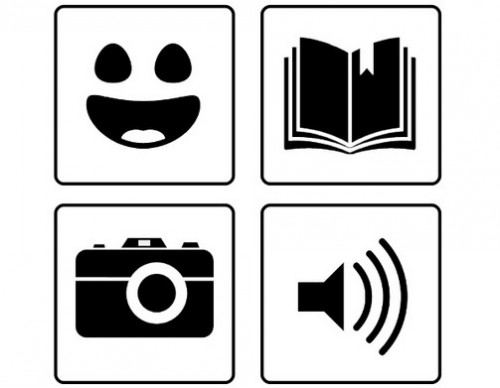 The title slide is an example, I hope you see.
I was wisely cautioned by Kim to make the pace move, and give the kids things to do every few minutes. They got the idea and images I used for metaphor, and then participated as I retold the 50+ Ways Dominoe Story with photos. They helped me break it down into 4 icons.
Then, as an experiment, I asked them to make a sound for each step.
And thats when the decibal level and amount fo energy blew the roof off.
Ask 2nd grade kids to make noise? No problem. I cannot see getting a group of adults to do more than glance around uncomfortably.
They then went into groups and worked on making a 4 icon drawing of the classic fairy tales they were studying, and then devising sounds. This went a bit off as they ended up wanting to do little mini performances, and not every group got to perform. Having them focus on the icons would have been better as their work could have been displayed.
But it really seemed to work well.
After school was a session for all teachers. Think about trying to do something to energize teachers after a full day of teaching. Actually at YIS this is not much of a problem, these are some stellar classroom teachers.
I started with something active I did in many sessions, a round of improv with pechaflickr

cc licensed ( BY SA ) flickr photo shared by cogdogblog
One of the volunteers, David, picked the tag word to be "mushroom". Whether this thing has any potential value beyond being fun is open to question, but having done it 5 or 6 times on this trip, the things I notice are a dramatic change of energy in the room. And I am no brain scientist, but I would guess if we could do some scans, we would see a big boost of neural activity in participants. In having to be spontaneous and talk through a photo one has not seen before, there seems to be a lot of energy being revved up in being aware of the audience, thinking about the photo, trying to connect it to what was said by others before, trying to think where to steer the talk going forward. It's a hunch right now.
The rest of the time was… well, I went a bit overboard with the "cool web site" firehose. The idea I wanted was to give an appreciation for the near infinite feel of the web, a feeling similar to how one feels overwhelmed and small while standing at the edge of the Grand Canyon. That feeling is one way beyond seeing it in photos (and honestly a shtick I have used since a talk in 2007 at UMW's Faculty Academy).
But a new frame, and the title, comes from a passage and story I got from reading Steven Johnson's Where Good Ideas Come From how a victorian era book, the best technology at the time for organizing a hyperlinked world of information, influenced a young boy as a sense of magic that was a portal to the information world.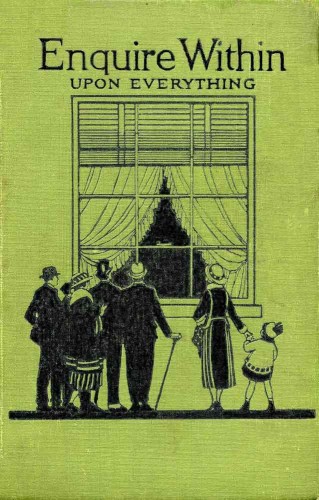 It is worth noting that while you can buy this book on Amazon, the entire text is available for free from Project Gutenberg. The thing is, this boy grew up to be a computer scientist working in a Swiss research lab, so influenced by this book, that his first effort at a hypertext information system was called "Enquire".
His second iteration was called "The World Wide Web". It's been rewarding to reflect back now on Tim Berner-Lee's original vision for the web:
The dream behind the Web is of a common information space in which we communicate by sharing information. Its universality is essential: the fact that a hypertext link can point to anything, be it personal, local or global, be it draft or highly polished. There was a second part of the dream, too, dependent on the Web being so generally used that it became a realistic mirror (or in fact the primary embodiment) of the ways in which we work and play and socialize. That was that once the state of our interactions was on line, we could then use computers to help us analyse it, make sense of what we are doing, where we individually fit in, and how we can better work together.
(emphasis added) We think first of the web as the technical thing, the links, HTML, the hypertext protocol, but the reader of Enquire Within Upon Everything had a larger vision, which i suggest are true or near true (not for everyone but many of us) as a mirror of the ways we work, play, and socialize– and that the thing we ought to be using as a goal is using this so "we can better work together".
Anyhow, I really like this frame to set up what comes next, where I aim to give a sampling of the wondera of the web– a seed for this idea was when I recently came across the world's largest panoramic image (of London).
I then went a bit overboard and sprayed the audience with a wide range of what I hoped were "wow" sites- not to be a resource, but to emphasize the near limitless potential of what the [open] web offers. After feedback from this first time through, I cut it back to 5 examples which typified a "group" of sites- virtual places, seeing data, helping others, etc. The more recent version of the slides is this shorter one.
That was just the first day in Japan. In the evening I was delighted to get my suitcase delivered to my hotel room, the one US Failways decided I did not really want to take with me (oh yes, I ams till mad at them).
On Tuesday I returned to the 5th graders, and we did a session on Five Card Flickr Stories – a thing I have done for adults, university level students, and at least 8th graders – but how would 5th grade students do with creating stories out of random photos?
Better than any audience I have every had before. Hands down.
I start with having a group do a story together, and talk out loud about their reasons for choosing a photo to use, and then voting for the one the group wants to use. We could nto start better for the story that would emerge as Weird Dream.
From the first shuffle, a young lady's hand went up so fast I think it broke the speed of light, because she wanted to use this bleak photo (actually it is a video!) – she said something like, "I want that grey photo because it is mysterious and sets a mood for something bad that might happen."
And for the next 15 minutes almost every student wanted to suggest why one photo was better to choose for the story we made. This was enthusiasm on jet fuel. But that was not the best part.
I then set them loose to do their own stories, some students decided to work alone, others in groups of three, huddled together with their MacBook Airs (YIS is a 1:1 school). The thing was, I did not really need to give them instructions, most of them located the web site on their own (via search), and started right in. All I had to do was watch and be amazed.
They went on to create 38 different stories. One student showed me a bug in my site (he showed how if he held a click on a photo or clicked it rapidly, it would be added multiple times to a story). I saved the gallery of stories this group of 5th graders created:
Woah.
Woah.
I went on to the session I was most worried about, a lesson for a 6th grade math class. This was set up in a "labsite" format- something I did several times at YIS. I met with the math teachers 30 minutes before the class to discuss my activity idea and get feedback on it. Then I had a class session from 50 minutes, followed by a debrief with the teachers.
When we first started planning this session before I left Arizona, I was asked to do something related to their current unit of statistic. Yikes, I scrambled to study up, got ideas via twitter from Darren Kuropatwa, but once Kim and started brainstorming via Skype, she assured me I would nto ave to teach statistics, that I could do something on using visuals to tells a story about data.
I literally came up with the idea the night before (based on a fantastic suggestion by Lynda Leatham), that I called Telling Stories with Pictures and Data. I started with the idea I use in talking about storytelling that commercial movies work because they have a formula to entertain, but not really communicate anything important, and contrast it to the Orange experiment video that I suggest uses cinematic style to present the results of a science experiment.
The topic we want to investigate is what does stories do the data about world economic data and average food consumption tell us? I show two kinds of infographics and discuss some of the limitations and questions one needs to ask of them. I then show them Gapminder, where one can manipulate 6 variables of world ata on a single graph. We can set the axes to be caloric intake per capita versus GDP per capita. I ask the students to choose 5 countries from different regions and try to explain or ask questions about the patterns the data makes as one scrubs through time. I tell them all to use Japan which has a rather interesting pattern of showing an increase in both GDP and caloric consumption until around 200, when the average consumption decreases.
We try yo conjecture why this might be. Now 6th graders of course do not have the knowledge of history and economics and social demographics to answer (I am not even sure I do), but the thing I am trying to get them to do is to question the patterns they see, and identify when they differ. So for Japan, one kid suggested there was a war.
No there were no wars in Japan in 2000!
Another said maybe it was bad year for crops. Possibly, but it would not seem to be a trend that would continue. My question to consider is- maybe as a country Japan started to eat in a more healthy pattern (reducing their consumption), a pattern you never see in the data for the US.
We let them experiment, and the lead math teacher created an assignment for them to find countries with different patterns and to create a multimedia report on what they learned and what story might be considered to explain.
These students really took on the experimentation of Gapminder.
The last thing on the day was an after school workshop on 50+ Web 2.0 Ways to Tell a Story that evolved more into an open and interesting discussion of these web tools and how students might use some of them.

cc licensed ( BY SA ) flickr photo shared by cogdogblog
That was only 2 days of this week in Japan. I am going to have to pick up this post in another segment to summarize the Flat Classroom Conference. Whew!