Making the Twilight Zone approachable for new readers…
This is a slight riff from the I Can Read Movies ds106 design assignment, I did not use the templates, but instead mocked it from Biscuit Goes to School
I started with the idea of the Janet Tyler character facing the "beautiful" people maybe putting a mirror in between.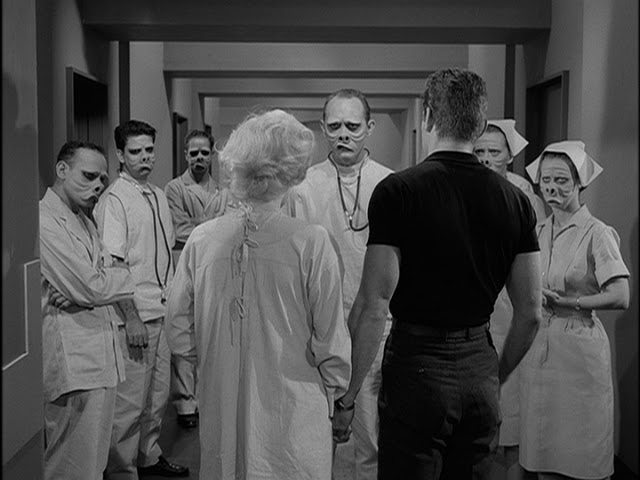 Instead I cropped out the back if her head and put it through some palette and poster edge filters in PhotoShop to simplify the colors of the back of her head. I got the mirror and the pig face from the Noun Project (just using the snout of the pig in the mirror). The text was done with the Chalkboard Font, and warped a bit to match the original.
I thought it a bit literal, so got the idea to GIF the pig nose in. I switched to the timeline mode of the animation paletter, toggled open the available slides for the pig layer, By setting key points in the timeline, I could make the opacity go from 0% to 40% and back to 0%, making it fade in and out:
I'd like to see more book covers as animated GIFs.
The prize of this episode as many are the way it flips our assumptions. When you know the ending its amazing to see the ways they avoided showing the nurse's and doctor's faces, yet did not make it too falsely set up.
Wow, I had planned to do some other things today, I ended up doing more #ds106.