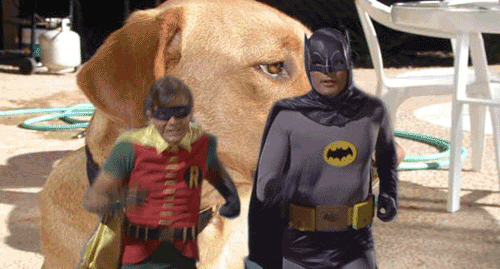 Batman and Robin, so scared of the Dog. They cannot run fast enough.
How could anyone resist the Batman and Robin Running Scared Assignment submitted by Michael Branson Smith
There's an awesome Tumblr blog created by That Design Bastard filled with animated GIFs of Batman and Robin Running away from sh*t. The cool thing is the site posts a PSD file of Batman and Robin running with a transparent background so you can make your own. He even encourages you to submit your GIF to him for consideration. Time to get those two caped crusaders running scared!
So much you can do here, especially given the provided PhotoShop file with the dynamic duo already animated. That one above was nothing beyond importing different images in lower layers.
What might be more interesting is Batman and Robin being scared… of themselves! How about some recursion?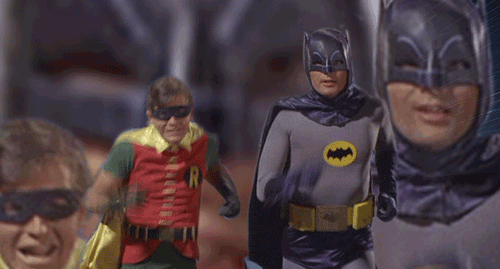 Now that is scary.