Once again in the YouDontSeeThisInAMOOC category, long time open participant Melanie Barker gives is a fantastic promo GIF for the Headless ds106 that starts August 26: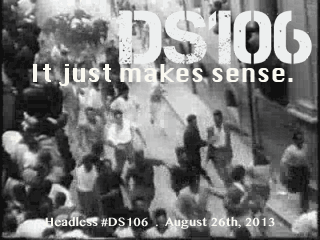 DS106 makes sense. Running with bulls does not. But running with bulls is exactly what's going to be happening near Richmond August 24th. Fools.
If you visit Melanie's blog, you will find (I am guessing) a ds106 Icon Story inspired header graphic.
So why are educators who stereotypically in a Turkle fashion would be off on the beach reading Milton or Sarte, deeply reflecting on their existence– instead using their summer days making animated GIFs for a course they are not enrolled in nor will get any credit?
If you need me to explain, I won't, except to say– get ready for the bulls. You can with the lowest of risks, join a recasting of the syllabi of previous UMW ds106 courses starting August 26 as the "Headless ds106" course — check out the details.
You do not have to do anything right now, starting August 26, you will find a weekly suggested set of things to do for each topic. There is no obligation, no concept of dropping in or out, no grades, no certificates, no discussion forums, no video lectures,… and you choose how deep you want to swim with the bulls. The "headless" part is not a required theme of decapitation, but suggests the idea that no single person is responsible for teaching the course, and in fact, it is an experiment to see how a community can teach itself.
We have a signup doc for people who are interested in being weekly helpers – not teaching, but doing whatever they see fit to help others try the week's work. And feel free to fill your name in (again risk free) to a week that you'd like to help out. These are suggested (nut not all) ways you can help:
introduce the topic and write about it in their own blog
encourage and connect people via twitter, G+
run a google hangout, ds106 radio broadcast to discuss the topic
do the assignments and share them
make tutorials
help us identify assignments we should remove
share resources, tips, tutorials (looking at some delicious tagging too)
highlight the work of others
nag and tease Jim Groom
What we'd really like people who have already been infected with ds106 to do is, encourage a few colleagues, students, friends, creepy uncles, neighbors, strangers– to join you in the experience. Bring some new people into the fold.
To de-emphasize my role, I am stepping back a bit in August, especially as I focus some energy on building the ds106 assignment bank template, and letting others kick it into gear- just see how a talking doll has laid down a fabulous month of GIF challenges. Others are getting active in a Google Plus ds106 Community— again, I keep an eye there but am purposefully leaving space for others to step in and foster that space.
So what do you do? You actually do not have to do anything.
You can start be setting up your ds106 blog space, and if it is not in the ds106 site, sign your blog up – and select the "Headless 2013" as your affiliation. If we already syndicate your blog, just let me know and I will make sure your feed is properly tagged. All blogs we are syndicating in are listed at http://ds106.us/tag/headless13.
But that can even wait, and you can join at any time. No deadlines, get it? Pick your own pace. The first two weeks of the course, ds106 Bootcamp, are really about getting your site in ready shape, so there is plenty of time to work at it.
If you have just linked to ds106, or looked at it from across the fields, or wandered what those lunatics are doing… this is a great time to get some direct experience.
You may have more fun then ever, and we guarantee you will keep your head attached.