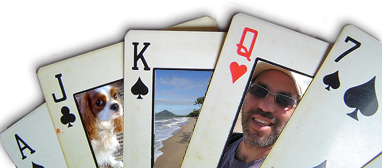 As of Mon, 19 Aug 2013 02:00:11 -0400 10518 Five Card stories have been created on this site from a pool of 13589 tagged photos.
I have bot looked at all 10,000+ stories- this site has been humming along, for the most part un-attended for months and back to 2008. In some exchanges a week or two ago with Jason Greene, it dawned on me I had not updated the source code in a while, which I just moved over to github where all the cool kids hang their code — https://github.com/cogdog/5cardflickr
Jason had expressed interest in helping out Lisa Noble in translating the site to French. As an experiment, since setting up multi-language sites takes a bit of legwork, I added a capability to tack on Google Translate to the site. It works…
knowing of course it is not perfect translation, but I had hoped.. good enough to understand how to use the site. Besides, I get 57 languages I can make the site available in… and the feature can be turned off in the configuration file.
But Lisa wants a French version, and Jason offered to translate the public parts, which will take a moderate, but not horrible amount of code editing. If he wants to do it, the code is there now.
Some changes that are present now:
Updated the phpFlickr library to most current version, no need for PEAR sub directories
Added an admin tool to be able to mark flickr photos as "unavailable". In most sites not a problem, but on the main site, there are a lot of photos no longer on flickr. The thing is, the way I designed the site is that when it looks for tagged photos, it does not download anything, it just stores the info needed in its own database to find the photos (the photo id and user id). This means that older stories may reference photos no longer available. C'est la vie– but I did not want new players of the site to be doled out photos that are not there. So the database table of 'cards" which stories the photo info, has anew column to indicate if it is active (note, if you are updating a site from the old version, there is a mysql import/command you can use to add the new column to your database).
Miscellaneous bugs I cannot remember any more.
The admin interface is nothing super fancy, but if you want an idea what it has, here is a shot of the main site: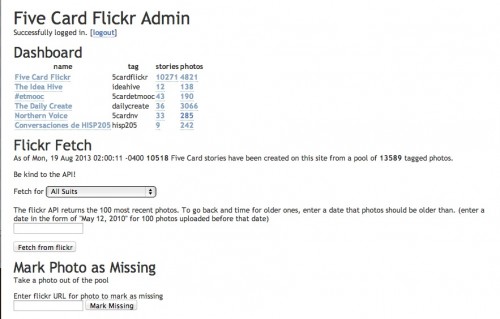 Obviously, updates will be easier on github, and better– other people can fix things! Right? in theory?
Anyhow, this is one I just wanted to cross off my list.
Here is a quick run to see how it goes…
---
a The Daily Create story created by CogDog

flickr photo by Bookhenge

flickr photo by eeenisa

flickr photo by JanusAjax

flickr photo by leighwh

flickr photo by Kavubob
The Daily Create is not a thing one needs a PhD nor classic art skills. All you really need is a desire to create, as simple as just expressing it with your best friend in the forest or out on the public square.
But what you create may only be appreciated by people in a sauna or composing baroque love songs at home. In the end, we all get burned up when the sun explodes, so might as well make some art!
---