It has nothing to do with the Mothership Google, but Googley Eyes are useful for sock puppets. Via the Firehose of Links Known as Alec Courous, I found myself diverted
"Add googly eyes to a GIF" http://t.co/76z5EKhIoX

— Dr. Alec Couros (@courosa) November 18, 2013
I find Googlify is a sophisticated technological tool (free of "Big Data" and pivoted moocs) for adding this effect to an animated GIF
which you cannot enjoy since this is a snapshot.
But the site allows you to add this effect to any published animated GIF
I decided to give it a go with one I made of axe wielding Bryan Alexander when I visited him in May 2011
Loading the URL for this GIF in the Googlify site, and the site deconstructs the GIF into frames, each allowing you to add a googley eye and change its location, spacing, size, etc.
and it re-renders as a new GIF: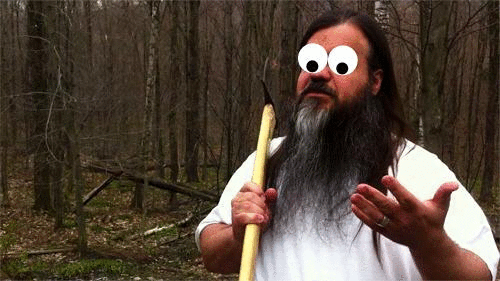 Ain't he googley eyed?
Why do this?
Because you can.
Again, seeing a GIF broken down into frames allows you better to understand how it generates animation (right?)
UPDATE November 19, 2013: This is now a ds106 assignment! Start doing googly eyed GIFs