cc licensed ( BY SA ) flickr photo shared by Alan Levine
UPDATE Mar 18, 2014: Now with videos!
Last Friday was an extra special day to visit friends and colleagues at the Maricopa Community Colleges- it was the second annual TechTalks event hosted at Scottsdale Community College. Last year, they changed the format of the typical keynote/breakout/lunch conference event– it was the brainchild of Economics teacher Charles Pflanz to convert it to the shorter TED style mode of 18 minute talks.
I was fortunate to have been invited in 2013 to give one of these talks, which was great, but I had an equally fulfilling experience being in the audience this year.
One thing the format does is reduce the session choice syndrome, since everyone is present for everything in the same space. The 18 minute length (and it could be 15, 20) busts up the hour length classroom like presentation into something more energetic. And the Performing Arts Center at SCC is a fabulous venue. The team there brings all of their professional production expertise in lighting, sound, and video to TechTalks.
They also produce professional quality archive video (multiple camera, cutting in the presentation slides) which should be available soon on the SCC YouTube channel— it will be well worth checking out the videos when posted.

cc licensed ( BY SA ) flickr photo shared by Alan Levine
One thing this comes out clearly, as noted in the welcome by SCC President Jan Gehler and host Lisa Young, is that college focus on the student experience. The opening and closing talks, last year, are by SCC students.

cc licensed ( BY SA ) flickr photo shared by Alan Levine
Opening speaker Susan Moore introduced and played a moving personal digital story by her student, Cody Chee Whitesinger.

cc licensed ( BY SA ) flickr photo shared by Alan Levine
Andrew Currah from Apple Education spoke about Creativity in the Mobile age, that struck strong notes, and was not at all an Apple sales job. See his resources shared at http://bit.ly/scc14

cc licensed ( BY SA ) flickr photo shared by Alan Levine
Faculty Janine Hilton shared via video and message the importance of patient simulations for their ER training programs. The technology has come a loooong way from Resusci Annie, and their sophistication is super critical for helping health care professionals be effective where it counts the most. And starting stat- care giver error is the third leading cause of fatality? Yikes.

cc licensed ( BY SA ) flickr photo shared by Alan Levine
It's hard for anyone to match the enthusiasm of Lisa Young as event host, and she brings it even more to her own talk. She shared perspectives on technology and what makes it engaging for students.
And in her starting narrative of a personal story about her Dad and her as early "teach geeks" is what moves something from a typical presentation into a memorable talk.

cc licensed ( BY SA ) flickr photo shared by Alan Levine
I am pressed to pick highlights, but getting to hear Physics teacher extraordinaire Davide Weaver speak about his "STEAMy Story" was one for me. David was the first faculty member I interacted with in 1992 as a green horn instructional technologist at Maricopa.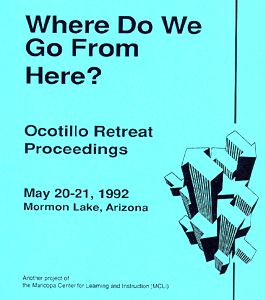 My first week on the job was an Ocotillo Retreat at Mormon Lake (about an hour north of where I live now)– in those glory days the Maricopa system and the office I had just started working on coordinated Ocotillo, an open internal project aimed at having faculty had direct input to the technology future of the system.
I still remember sitting on a bench at Mormon Lake and getting to know the vortex of teacher passion energy that is David Weaver. He was one of the first faculty who latched on to the web and HTML when I started sharing it in late 1993… He is fairly sure he created the first Chemistry Department home page anywhere on the Chandler-Gilbert web server… alas it predates the Internet Archive, so you have to accept me there was a valid reason for that site to have a photo of Elvis meeting Richard Nixon.
Every January David attended a Physics teaching conference and would come back with a new approach that he usually would put right into motion– it was not just technology, it was always steeped in pedagogy.
And that's what he shared in his TechTalk, walking on stage in his technicolor lab coat, wearing an electric guitar, to the sounds of AC/DC "Back in Black". His talk showed us his latest teaching innovations, on bringing the ideas of Art to STEM, and using tools of student reflection in various forms, arduino projects, and the killer example- how he taught his students physics through a semester project of them building an electric guitar.

cc licensed ( BY SA ) flickr photo shared by Alan Levine
David Harris from the Connexions project gave a powerful rationale for the efforts of OpenStax College as a source of free, open textbooks.

cc licensed ( BY SA ) flickr photo shared by Alan Levine
Add the smashing talk "The Easy Button" by Todd Conaway, Yavapai College, as a must see. When we've gone hiking or biking this fall, Todd hinted at what he was planning, but this was easily the best talk I have seen anywhere on a while. The premise is that seeking "easy" solutions is a dreadful shortcut to make makes teaching and learning effective.
Walking on stage in a neon red plastic outfit, it was clear right away this was not an ordinary talk. Todd spoke of his experience in being a high school teacher, and lead into metaphors of food for teaching- the find cooking versus TV dinners. He literally pulled out a big hammer to smash ideas of easy course content, easy online teaching, easy efficiency…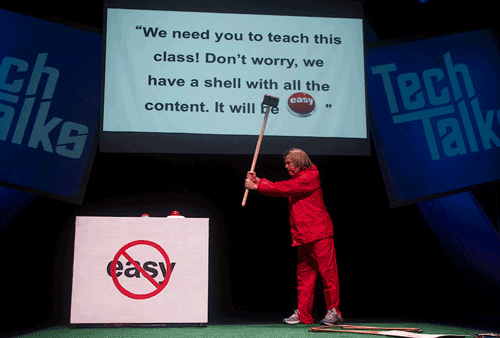 And yes, it was funny, and entertaining. But there was much much more to Todd's message- that good teaching is not easy, and not something automated by technology.
Make a note to watch Todd's talk when the video comes out. Break out the plastic protection wrap.

cc licensed ( BY SA ) flickr photo shared by Alan Levine
My friend and colleague Sian Proctor was rightfully worried about following Todd's act ("This talk will be easy" she said, having to wait for the SCC crew to literally sweep the stage from Todd's debris). But Sian has so many experiences to share, this one from how she spent 4 months during her sabbatical in a Mars simulation dome on the big island of Hawaii; the HI-SEAS project meant to help NASA better provide livable conditions for future Mars astronauts.
What she learned and brings back to her own classes demonstrates how an adventurous teacher transforms a classroom.

cc licensed ( BY SA ) flickr photo shared by Alan Levine
I got to meet Nai Wang at a Steve Hargaon talk last December; he brought his passion for making school better than his own experience to his own passion fueled business, KC Compass. What I mentioned to him as being effective was his opening Resonate style of going back and forth from This is how Things Are to This is How Things Could Be- the image of a life long tutor? That works.

cc licensed ( BY SA ) flickr photo shared by Alan Levine
And who does better at using the cow metaphor for talking about MOOCs than Donna Gaudet? Down to wearing the proper headgear! Her talk was a followup to the one she gave in 2013, as she was first starting her first MOOC- now with 3 under her cow belt, she is able to share insights and data on what she has learned from a MOOC on basic arithmetic.
And she had the best line ever on MOOCs:

cc licensed ( BY SA ) flickr photo shared by Alan Levine
Does this MOOC Make by Class Look Big?

cc licensed ( BY SA ) flickr photo shared by Alan Levine
And closing again in a big way, is SCC student Blake Smith, aka DJ Ascension literally blew my mind. Talk about innovation? Long a strong provider of performance programs, SCC has the very first DJ certification program in the country.. and DJ Ascension is the first graduate.
He spoke passionately about the craft of DJ, and demonstrated live his technique of using twi turntables to mic msuic AND control music videos.

cc licensed ( BY SA ) flickr photo shared by Alan Levine
It was… to use a trite phrase… amazing. And he definitely underscored how much work and effort it takes to know the media well enough to match beats, pick segments, and mix media into something that is definitely art.
What a day. I am worn out just trying to recap it.
Stay tuned for the videos!
And I cannot wait until the 2015 TechTalks