I have broken some new ground, a MOOC PR.
For the first time, I watched a complete week's worth of video, an hour for a Coursera course (I always feel like adding an extra sera again, "course sera sera, what ever will be will be…). I want to give the Future of Education: blah blah blah a fair shake, if only for the caliber of other people in there. And I am have hopes that Cathy Davidson is going to pull out all the stops to make it less like the other ones I have tried signed up for visited once.
Maybe I bordered on troll-dom, but I kind of giggled at the idea of a "Movement" being associated with the word "Massive"
Massive and Movement… Two words I rarely enjoy being together 😉 #FutureEd

— Alan Levine (@cogdog) January 27, 2014
I have my system set up with an Airport Express that I can play sounds from my laptop through a nice pair of Harmon Kardon Sound Sticks, so I was able to listen to the intro and the first week's videos. There is no doubt Cathy is excited, and has a nice office, and lots of books. She is enthusiastic, and we see her having fun as she goes. And she promised not to do a lot of video lecture– well must be next week.
I got a good sense of her perspective, and the framing of how she was going to guide the history of education. The framing of the previous information ages was nicely woven together. It's probably my own preferred style of information getting, but I did not really get an hours worth of content from an hour's worth of video. But it is important to have that presence, and it does help a lot of people new to this, new to her work, to hear her set up the course and philosophy in person.
Yet, it really was a lecture. And that is what I come to expect from Coursera, even broken up into chunklets. As Bryan Alexander noted, she is trying to contrast herself against the xMOOC crows and hoping to reinvent the form, but she gave zero nods to what has been down already in the last five years of cMOOCs. They are the Rodney Dangerfield of MOOCs, they get No Respect.
At least there were no silly quizzes- the last Coursera course (sera sera) I was in, the first quix was something like, "True or False, there will be a quiz each week". This time I am not making up stuff.
At least the FutureEd one has open ended questions. I was curious when in one I entered a one word response ("Everything") and was told it was incorrect.
Wow, what AI!
Until I tried this: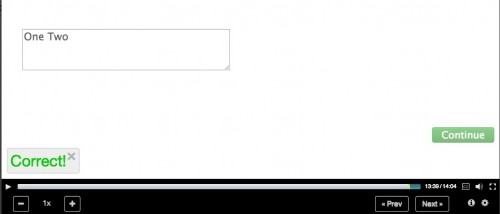 Silly me. One word, incorrect. Two words, SUCCESS!
Something was nibbling away at me- at least four times she referred explicitly to the start of the Internet age as being this seminal event on April 22, 1993:
Today we're going to be talking about the fourth information age beginning April 22, 1993, when the University of Illinois there and scientists decided in conjunction with the Federal Communications Commission and in fact Al Gore that the internet was something too big and too important for scientists, the government, policy makers, and other academics. And they should be available to the world April 22nd is the official day. So basically we're talking about 20 years ago that suddenly the internet should become available to anyone with an internet connection.
I am prepared to be totally called out, but from what I know, and can look up, is that what happened on April 22, 1993 was this: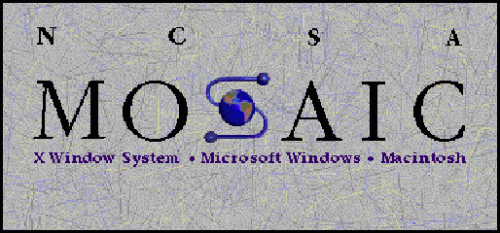 Al Gore, The FCC, and not even scientists were involved. The first graphical web browser was designed by students at the National Center for Super Computing Applications, as the vision that the hypertext web that existed already, would be more useful as a graphical application.
Certainly this was a powerful moment (I got my first taste in October 1993), and we might not be here doing this were it not for that Mosaic experience. It was certainly monument worthy
Or maybe it was April 30, 1993 when CERN released the World Wide Web software, which had been around since 1989, into the public domain.
My hunch is Cathy is alluding to the handover of the management of the internet from the National Science Foundation (NSF-NET) into private industry, but from what I could see, this occurred over a period from 1993-1995.
What to me defines our internet age, If I could just, in 50 words or less, say what defines our information age, is the astonishing ability to have an idea, to go to my computer, to write that idea, and have it received by anyone else in the world who has access to an internet connection.
I would agree with this being the power of the web we have come to know. But that is not what it was in 1993– Mosaic opened up the web as a place that internet accessing public could explore, but getting content onto the web was not that easy. Few had access to a web server (I plugged a Mac SE/30 into the Maricopa Community Colleges network and set up a server in October 1993, but no one knew anything to say that was not allowed). And that idea had been around a long time before, email truly offered that way to message and connect to anyone. And there is a long rich history of BBSes in the 1980s operated by citizens. Do we roll it back to the Wizards Who Stayed up Late? To the designers of the ARPANET? To the birth of the modern personal computer?
I agree that the Internet age is an important one and worthy of putting out there as the fourth Information Age; I just do not agree (or even see the point) of pinning it to an exact date.
My quibbling is done. This means I am listening 😉
I am eager to see how things unfold in the FutureEd MOOC, especially as it hopefully moves soon into the more collaborative activities. But I do expect my MOOC fatigue to kick in at any ti————-