Since 2009 I have maintained what was once just a greasemonkey script, but later a chrome extension that was designed primarily to help me blog with flickr creative commons attribution photos (it provided a string of text with proper attribution, license, and the img tag to embed the image). As of yesterday, when apparently yahoo flicked the switch, my cc attribution helper is in the trash; inert, dead, and with no hopes of coming back.
In the trash.
I spent about 3 hours today trying to parse the new code underneath the new Yahoo look, and felt I could parse most of the info like before with Xpath, but something in the new architecture renders the script dead, even for simple alert debugging checks. Yahoo is serving up some complex Javascripted dynamic content. Besides the ASCII bicycle in the HTML source (candy), you find fun trickery like:
<

div

class

=

"facade-of-protection-neue "

>

&nbsp;

<

/

div

>
Yahoo's class is a facade of protection… neue! Charming.
The helper may not be totally impossible to fix, but I trotted out beyond the limits of my browser scripting, the XPATH code I had used was already on those fringes. I doubt I have the chops to raise it from the dead.
I think only Yahoo can enable this, so if this was useful, you can toss in a few votes for my suggestion as a feature.
The creative commons licensing in the new groovy flickr is down below one of the three "charm" tabs; on your own images you actually see the license, but on anyone else's page you see either All Rights Reserved or Some Rights Reserved — to know the license you have to hover or click.
More clicks to attribute correlates with what is already a low level of attribution going down the tubes.
To give attribution to the owner of this image… I cannot even copy/paste Steve's name. Sorry Steve.

The funny thing about the flickr interface is where its veneer thins, and the old flickr look pokes through. If you go to your own photo stream, and click "Edit" (I've never even done this before)- look, beneath! It's old flickr!
And even more ironically, the flickr collection for creative commons? It's the same old page it was in 2011. It's old flickr with a new headband!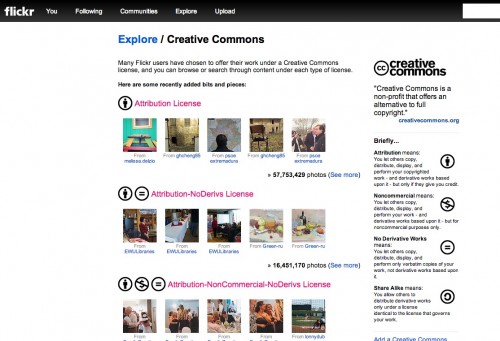 The de-valuation of creative commons shows too- nowhere in the source code of a flickr creative commons image can you find any meta data or rdf triples or any shred of machine code ti indicate creative commons content. It's undiscoverable.
Now I now many of you will tell me how bad flickr is, and how you have moved on to 500px or self hosted or … I am going to go out on a wobbly limb; I kind of like the new design, It's modern.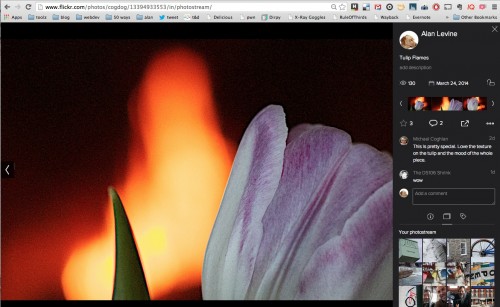 I just want to be able to more cleanly and efficiently do attribution.
I believe in attribution.
I still love flickr, this being my 10th year hoisting my photos there.
Stupid romantic am I.
Strongly.
So back to the drawing board. The rights info and everything else is in there via the flickr API, so probably a better approach is some sort of bookmarklet tool that can provide the cut and past code in a pop up window. Rewriting the content into the flickr page was nice while it worked, but was always dependent on the structure of their pages having certain divs and ids and classes. That was always dicey.
UPDATE Mar 27, 2014 No, I did not get a personal call of apology from Marissa Meyer.
I have been seeking some images, and found a bit of a shorter step process to find attribution.
I do my searches with the creative commons options at compfight. They actually have a decent attribution string you can copy, and then download the size you need. But I follow the link to the flickr image, this case one of the great collection of numbers by LEOL30. Under the 3 Dot menu, then to Download/All Sizes. From here is a decent attribution license string and the name of the photo owner you can actually copy with a mouse. One more click to copy the page URL.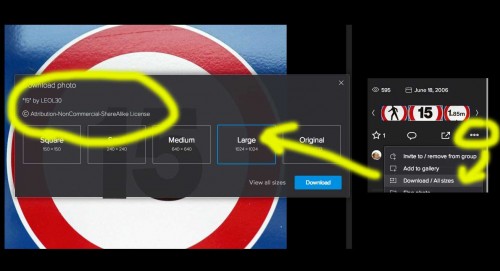 so at least I have
"15"

by

LEOL30

Attribution

-

NonCommercial

-

ShareAlike

License

http

:

//www.flickr.com/photos/49968232@N00/176206535/
I can get some HTML in my 500px size via the arrow coming out of the box icon so I can get

"15" by LEOL30 Attribution-NonCommercial-ShareAlike License http://www.flickr.com/photos/49968232@N00/176206535/
It's interesting that flickr puts an attribution to the photo owner in its own generated HTML tag, for the title attribute:
e.g.
title

=

"15 by LEOL30, on Flickr"
How much extra effort would it take for them to modify that to read:
title

=

"15 by LEOL30, Attribution-NonCommercial-ShareAlike
They can do this, if they wanted to.