On Tuesday, everything was lined up smooth for my invited talk at Skidmore College, Making/Telling Stories That Matter (ironically I submitted that as a title before I knew that the Skidmore motto was "CTM" aka Creative Thought Matters) (honestly).
Except that when the a/v crew went to turn on the livestream broadcast, they found it was already broadcasting… a lacrosse game. With 30 fans watching. A bit of scrambling, huddling in the presentation hall because the stream had been reserved. Someone had to call in to pull the hook.
The fans were not happy (a big thanks to Rowan Peter, tuned in from Melbourne Australia who captured the whole scene via screen shots)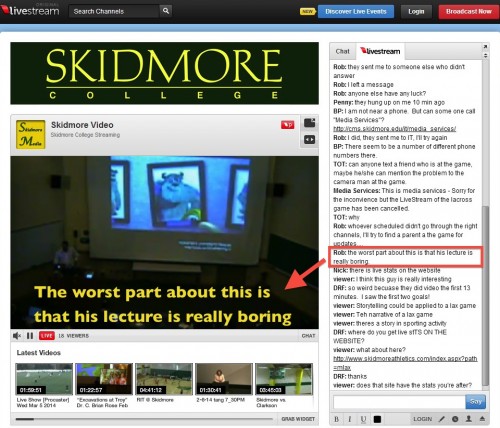 Jeff: What happened to the lacrosse game?
Rob: Some clown put this on
Lacrosse fans are a tough crowd. Even worse for them was how badly they gotten beaten by Hamilton.
I loved the whole story playing out. Maybe they could have broadcast my talk over the video action of the game. Mashed up.
Anyhow, this was a talk in response to one on digital storytelling in light of Skidmore plan to create a cross disciplinary center as a Documentary Studies Collaborative. The talk's description was
Maybe it goes back to cave paintings, maybe as humans we are wired for it, and maybe some of the magic of stories is that we cannot quantify them inside a neat definition. Our bodies react to a powerful story, a surprising story, a story that resonates with our own experiences. We can make better use of stories when we also practice listening, observing, retelling, experimenting, and practicing and practicing. Recipes do not work to make good stories, but I can share much of my own experience in creating and teaching what we call web-based storytelling. Through examples, experiences, and activities, I hope you can walk away from this session with new ideas to use in your own narrative and creative acts. Storytelling is about performance; Storymaking is what goes into creating a story to be told. We need both. And did you notice the lack of any mention of technology? It will be there!
The slides are shared though it's hardly the talk but all links listed are available at http://cogdog.wikispaces.com/Skidmore+Storytelling
I revamped all my previous material for something new. I tried to open with a bit of acting to demonstrate the idea of storytelling doing the unexpected, and how the character is important- I pretended when my image of a campfire did not show up on slide 3 to call up on the phone and be be irate to a fictional assistant named "Tom" — e.g. that as a character, I was turning out maybe not to be one to root for. I hears laughter, so the acting was not so convincing. Maybe that was the lacrosse fans.
Next I talked about the power of "Once upon a time" as an opening time/place indicator, and the ways that things like the short story Knock (example lifted from Bryan Alexander) accomplished the scene/character setting in the first sentence, and then the unexpected twist, ending in the second sentence.
I tried to contrast the element of surprise and story development of stories that we enjoy in books and film, to the "give away everything you will say" approach of bullet point presentations (I believe I referred to the screen shot of one as "an abomination of creativity").
I also put my animated GIF chops to work to poke some fun at the adage from Aristotle "Tell them what you are going to say. Tell them. Tell them what you said." If you have to repeat it that often, is the message memorable? what does it say about "then", which is you, if you need to be banged over the head three times with it? And, as my GIF tried to suggest, what if that was the films style of Hitchcock (The GIF is a bit heavy at 1.5 Mb, but you can watch it yourself)
Wanting to break up the expectation of a talk being me talking, I put them trough a short activity, a version of the Keychain stories we've done in ds106 and also that worked well last year in a workshop I did with Barbara Ganley. They certainly go into the activity

cc licensed ( BY SA ) flickr photo shared by Alan Levine
The hook in this activity is after they swapped stories (they were advised to listen closely), they were asked to combine groups where one person was to tell a story.. then I told them, that the storyteller is not telling their own story, but the one they heard. That's because when we create a lot of stories, we are often telling someone else's story. The idea is not to tell it exactly like the original, but to find our own way into the importance of the story, the "so what?"
I did some GIF work again to make a countdown timer

Then it was onto the stuff about what works in stories- the character, the hook, the shape, suspension of disbelief (using the Troy Library Book Burning as example), the unexpected, showing over telling (power of the silent dinner scene in Jaws)… I also did less about the "pyramid" as the structure of a story and more on the story spine (thanks Darren Kuropatwa for connecting me to that).
I shifted to being talking about documentaries; my hunch was most people think of them as I do, the kids of TV shows we saw as a kid– as a reference to the form, I used the Mockumentary, the Majestic Plastic Bag and the current poster child of the form, the guy who is so good, his name is part of Apple software
The thing that turned most of what I was planning on its head (nicely) was a link I found via a tweet from Barbara Ganley to Inside the Magazine by Adam Westbrook, which was well worth the $20 for its 4 issues, because it was really some of the freshest writing and ideas on storytelling free from the cave painting cliches. It also linked to quite a few amazing pieces of web creative form I have seen in a long time, a genre as I clicked deeper and deeper, is called "interactive documentaries". Instead of making these slides, I ended up putting a lot of time into turning it into a separate web resource:
but also going into examples of what web video can be (e.g. TouchCast). It's really a small sampling of what is out there- mainly for what it is showing that an experience on the web can be something other than "pages" loaded with links and sidebars.
And in the last 7 minutes I tried to explain ds106. At least give them a few things to look at.
I don;t know about the lacrosse fans, but I had fun. A big shoutout to Ben Harwood and his boss Beth DuPont for brining me yo Skidmore (thia was just day one, left for another blog post is the workshop from the next day).
And then, the next day, this thing was hurled at my from an unknown admirer