If you buy lock, stock, and "no need for pesky things like actual data" fact that we process visual information 60,000 times faster than text, there is nothing to stop one from taking video at 30 frames a second as information we can process 1,800,000 times faster than text.
The Huffington Post College edition comes close to that, as pointed out again by Dean
@dkuropatwa @cogdog this time, you tell him. http://t.co/P0pd138IaT

— Dean Shareski (@shareski) April 5, 2014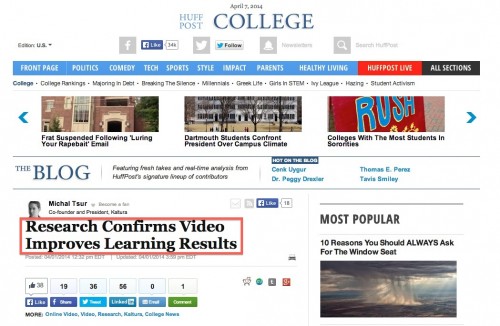 "Research Confirms Video Improves Learning Results" is pretty solid sounding. Heck, I might as well stop and tweet it.
Confirms.
Is this research a controlled study?
Nope.
Is it the result of laboratory measurement?
Nope.
Is it an analysis of data on learning performance?
Nope.
It's a survey.
Emphasis mine in case it is a bit too technical to get to the conclusion.
Is video really better than the written word when it comes to information retention, education, and overall experience? Survey says: Yes!

My company, Kaltura, recently published the inaugural State of Video in Education report in which more than 500 educational professionals from across 300 institutions unanimously agreed that video has the potential to create a real impact on education.
A survey gathers opinions.
Research has NOT confirmed that video improves learning. A survey shows that a lot of people THINK that video improves learning.
And (ahem) a company that sells video services to higher education backs a study that supports the value of said company's services. I am not accusing anyone of anything.
I leave it as an exercise for the reader to draw those conclusions.
Of course video is important.
I might be commissioning a survey to confirm that dogs are superior to cats.
But publishing misleading headlines like this is shameful. Research did NOT show that video improves learning results. Someone should go pee on the front lawn of the Huffington Post.
Poor text, getting kicked in the can by visuals and video. I wonder why we even bother with it.