creative commons licensed ( BY-SA ) flickr photo shared by dvanzuijlekom
As a kid my Mom would ask me what present I wanted for the holidays or a birthday. "Present" being so singular, I thought I gamed the system by asking for a "big box full of a whole lot of little toys".
She always delivered.
Over in another room of the Campbell household, Gardner is merrily making some of his first animated GIFs. I got thinking about a few that were sitting in my undone pile, or the half baked ideas pile.
Here is the unboxing.
First of all, my good friends and happy couple, Michael Gershovich and Jennie Morris, the night we sat out on the new roof tap bar of the Park South Hotel. As it happens, often I get multipl photos, which plays out as a 1-2 Photograph GIF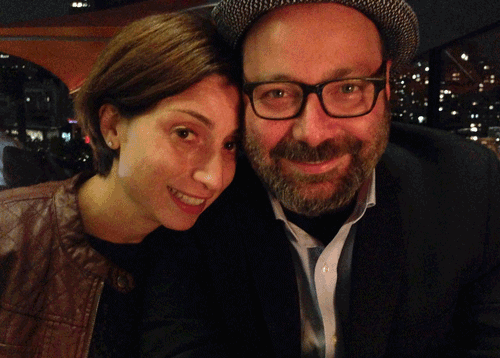 This is done in a way described elsewhere, using Photoshop to Load Files into Stack, letting it align obects, cropping, and setting some inter-frame timing.
Cute, aren't they?
Next, on the day I left the UK last month, pulling into Heathrow on the express train, I noted a retro style animated video poster that looked as if it was itself a GIF- what were the Seven Minutes That Changed the World? I dont know (it looks football relevant), but the style is dead on 1960s movie horror poster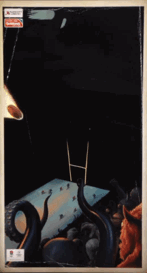 I had recorded the sign as a video on my iPhone, and used the 5SecondsAPP (a favorite of John Johnston) to make into a GIF. The nifty thing with this app is I could crop the image, and I could discard non-relevant frames.
Next are prototype Muppets. There was a discussion while I was visiting Giulia's colleagues at Brock University about the very first appearances of Jim Henson's works- they were 8 second commercials created in the late 1950s for Wilkins Coffee, with a close bit not really froggy Kermit named "Wilkins" and a grumpier triangle shaped dude named Wontkins. Perhaps as shorts these were the inspiration for Vine?
There is a collection on YouTube, and surprising how violent the plots tend to be
https://www.youtube.com/watch?v=ZxLyuw5bdyk
The clip I chose was at 3:16 when Wilkins calls his store for some instant coffee
Hello Grocery Store?

Send me some Wilkins Instant coffee!

(coffee squirts out of the phone)

Maaaaaan! How instant can you get!
That's it.
And then finally, in thinking about thoughtvectors and the first week being on As We May Think I poked the YouTube machine seeing if there was any footage of Vannevar Bush. I found the same clip repeated, where a rather enthusiastic, hand gesturing Bush describes his fascination for the brain and a computer operating in a similar way. His hands looked like he was a keyboard player (the musical kind), so I slid in a synthesizer below, and his words animated in.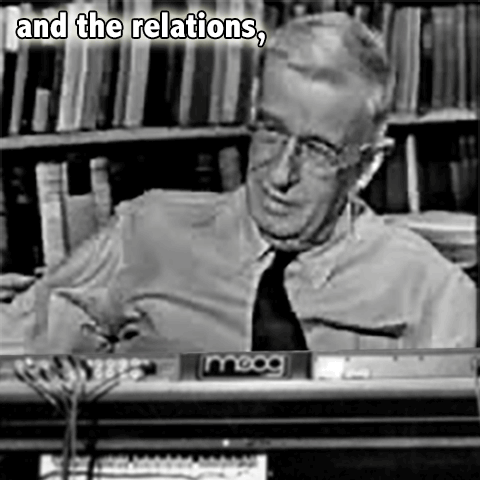 For this one, I downloaded an mp4 clip with SaveFromNet, imported into PhotoShop 6 as Layers (one every 10 seconds). I changed the size to leave from to slide in the keyboard image, and placed the text on the screen to appear sequentially (turning layers on and off).
No major connection here, no gif associative trail, just a pile of GIF detritus.