How about that, my very first photo goes into flickr Explore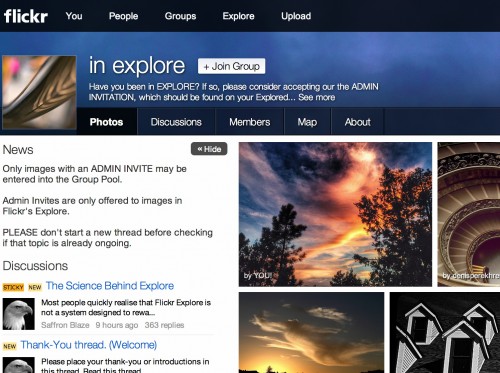 I've hung 38,000 photos in flickr since 2004, stayed with flickr, even defended it despite all of the Yahoo'd changes (though I did call them an ass).
And not even for a photo I would call my best (I keep my favorites over at Barking Dog Studio)- it was actually done without much thought. After yesterday's mid afternoon rain, at dusk I was relaxing on the porch and noticed some nifty pink cloud patterns. I snapped two images with my iPhone (locking the exposure on the orange part of the sky). The photo was ok, but it really popped alive when I opened it in the Snapseed app and applied the HDR effect (and probably a bit of contrast and saturation boost).
I do like the effect, it brought almost a tube like line of color almost flowing between the two pine trees, and it does have a painting like texture

creative commons licensed ( BY-SA ) flickr photo shared by cogdogblog
Okay, I like it.
And look, Tom, it's not someone brooding.
Thanks flickr.
I look forward to my next explore.
In 2024.