creative commons licensed ( BY-NC-SA ) flickr photo shared by Lope®
Having stomped around the forest for almost a week and finding no stories of OER Reuse but whispers and a few broken limbs, I am going to aim my search at the waters. The photos ore just as blurry and the doubters and skeptics just as mocking.
What little bits have come from the forest include:
Simon Thompson alluded to some direct evidence
@cogdog how about the fact I used this: http://t.co/JgtVqvxmla as a basis for this: https://t.co/xLra9vvPkB

— Simon Thomson ? (@digisim) July 21, 2014
Here's the thing. These are all useful and appreciated responses. But I really want to hear educators telling their own stories, in their own words, in a short video (if you really hate being on your camera, point it at a stuffed animal or a cat). Not a big grand sweeping story– if you have reused/modified some morsel, bit of open content (don't get tripped up in definitions of what is an OER- something that someone else designed for an educational context and shared), please just tell us about it.
A small granular story.
This is what I have so far from you…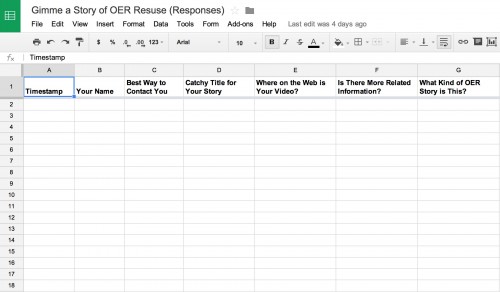 Can it be really that rare that someone has re-used open content? Seriously? Make a 3 minute video, fill out a form— am I asking too much?
I've combed through the True Stories archives and found four that fit. Is that it? Is that all ya got, big old Internet?
If The water fails to yield, next is the stomping grounds in the far cold north

creative commons licensed ( BY-SA ) flickr photo shared by cogdogblog