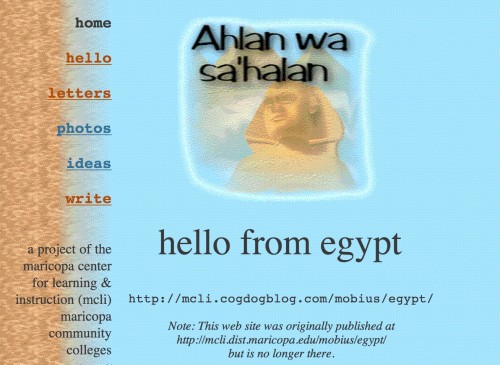 Through more twitter conversations with Maha Bali, my memory cells rekindled an early web project I did while working at the Maricopa Center for Learning & Instruction (Maricopa Community Colleges). I might boast that I built something to help a faculty member blog (there ought to be some scare quotes). I'd really forgotten this, but thinking of Egypt re-rigged some unused neurons.
In 1996, Jon Lea Fimbres, a counselor at Paradise Valley Community College, took a leave of absence when her husband accepted a position as superintendent of Cairo American College (I got confused, and thought it was American University in Cairo where Maha works now).
The Director of MCLI at that time, Naomi Story, thought it would be interesting for Jon Lea to write some articles about her experience in Egypt for our faculty newsletter. Somewhere, in my early web publishing attempts, I got the idea to publish notes from Jon Lea on a web site.
As a sidelight, I note the rather cliche graphic. Blame me, but that was actually generated from scratch by Tony, a student who did graphics work for our office, who is still working professionally in the computer graphics field. He used that Apple painting software that actually came in a package shaped like a paint bucket (does anyone remember what that was called?"
This was how the early blog software worked– Jon Lea sent me an email, and I copy/pasted it to an HTML document that I added to the site. We did not have any media embed features, and links were manually added. But pretty much it was sort of like blogging, with 12 entries from 1996-199.
It's interesting to compare Egypt of the 1990s to now, some of which we have through her visitor eyes and words
"Living" in Egypt has many advantages. We have been able to discover parts of Egypt that aren't on most tourist stops. People are generous, kind and patient with foreigners. Egyptians seem to get a lot of entertainment out of watching and helping all of us adjust. They have dealt with intruders for thousands of years. I want to share this side of Egypt with you. The landscape, people, culture inspire photos and description.
September 23, 1996
As I read these posts again, I realized they wer actually sent to me, and so it is also a conversation, as she overcomes her own aversions/fears of using computers, compounded by the challenges of connectivity.
My computer is giving me gray hairs…..since the phone lines are so static, I lose the connection every two to three minutes….it feels like living in the dark ages. I guess that is progress when you are complaining about the inconvenience of your computer and NOT about having to use one. God has a sense of humor….NOW I know all of the cool things I can do with my little computer and the national technology isn't quite ready to support it.
How have things changed? Well in some ways, plus la même chose. Do you get irate when the cable modem flickers out or if NetFlix cannot stream your movie? What about having daily electrical outages… in 2014>
@MiaZamoraPhD @cogdog @jimgroom cool. Will do the #ccourses facebook grp as soon as my electricity is back and i can sit on a PC

— ??h? B??i ??? ???? (@Bali_Maha) August 11, 2014
In 1998 Jon Lea wrote of her feelings in the time after the attack on tourists and references threats related to Iraq in a note "Never Felt Safer"
What a seeming contradiction: I live in Egypt (the Middle East) and I have never felt safer. Even with the threat of a bombing attack on Iraq, I feel that I am living in a country of hospitable people whose concerns are the same as mine. Taking care of families, trying to live a spiritual life and wondering about the future are a few of the things we have in common.

…

When an Egyptian greets you with a friendly, "Welcome to Egypt" it is a very genuine invitation to share in the pride and history of their amazing country. It seems that most Egyptians are naturally hospitable, generous and wanting others to understand their culture and traditions. Within the first month of living in Egypt, we had been invited to two weddings – one a formal, gorgeous occasion at a large hotel and the other a Bedouin family wedding held in the streets of the neighborhood with dancing horses and belly dancing.

Because of this strong sense of family and religious values and a legal system that has very strict, rapid consequences, I feel safer in Cairo living alone while my husband travels than I did in Phoenix.
Again, this was 1998, what is now?
I waited until now to do some googling, and can only come up with some references to Jon Lea in some international conference in 2000. But I know people I can call on the old telephone who probably know what became of her.
Is there a field yet of web archeology? Because I am committed to preserving as many artifacts as I can, to me the idea of what my colleague Nancy White describes as "technology stewardship".
This old stuff matters…. well at least it does to me.