Two weeks ago I was in Vancouver for the ETUG Fall 2014 Workshop, what a great gathering and with their un-conference format, a refreshing experience from the typical conference grueling treadmill present-o-rama format.
I was not sure I would stand up an pitch a session, but I was sort of prepared, I had brought the Storybox. It has been sitting idly since my return from New Zealand (a good sign was the battery still carried enough charge to last through my session).
There was not much trouble getting this group interested. I did less planning, and pretty much gave them the challenge to log on and figure it out.
I ended up collecting about 18 files, not bad for a quick session. The energy did fuel me, so I decided (although just acted on it 2 days ago) to clean out archive the content from New Zealand, and reset it for stops in Canada.
I'd like to see that sketch, Jason!
#etug participants having their way with @cogdog s Storybox. And I'm using the twitter tag feature why. pic.twitter.com/WKSQLSWVhK

— jason toal (@draggin) November 13, 2014
Still, I remain on the fence about keeping the stuff in the box (which is what makes it a time capsule) or to put it online so folks can access it. This time I flipped a coin and chose the latter.
Because I just love this media explorer I am using this time around; I made one especially for this current round. This is Infinite Grid Pro in action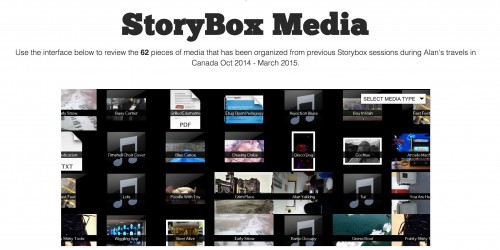 What I like about this jQuery powered media display is that many media files can be explored; as you click and drag around, the media thumbnails fill in, so it does feel a bit infinite (and its randomized). Plus I have categories for different kinds of media- photos, audio, video, documents, and new this time around– Animated GIFs.
You may notice I have 62 pieces of media listed- that's because I have to include at least 9 items for each categort, so I had to pad a few with older stuff.
I am overdue a writeup on all the changes I did for this version of the StoryBox. I completely replaced the entire stock interface of the PirateBox (you can learn how to set up your own at http://piratebox.cc/) using the Treble theme I have used on several sites (I wisely bought a multiple site license).
There's a whole lot that went into this, moving the web content to the USB drive (so its easier to update), putting in place a small python wiki, and a crazy assemblage of shell scripts and local PHP code I set up to prepare all of the media. This even included digging into some PHP text functions to overlay file names on the thumbnail icons.
That's a post for another day.

creative commons licensed ( BY-SA ) flickr photo shared by cogdogblog
It's still just cool.