Perhaps the most treasured digital bits I have is the hour of audio recorded of my Mom telling stories of her growing up in Baltimore in the 1930s. I recorded this on a visit after after her 80th birthday; and was on my way to visit some 18 months after when she passed away unexpectedly.
Way. Too. Unexpectedly.
I'm reminded because this week I have been visiting my cousin Jane in Vancouver. The day after I arrived, I spoke on the phone to her mother, my Aunt Dorothy, my Mom's youngest sister. She started telling the story of how she and my Mom, at ages 7 and 9, took a street car (alone) to go visit neighbors way out on Belair Road (now just suburban Baltimore); some Jewish city kids got to see some Christmas celebration. I managed to record a bit of this, and only then remembered I had a longer conversation I had recorded with Aunt Dorothy in 2012 as we drove out to visit my Mom's grave.
It was kind of funny, because that same story she mentioned this week was in that older recording, so I decided yo put them together. I was asking her questions to try and get at what life was like then, and also a bit of what my Mom was like as a kid, as well as their parents (my grandfather died before I was born, my grandmother I barely remember). There was a really funny one about them sharing a room, and the tricks their father used to play. I always knew my grandfather's shoemaking shop was what got the family thought he depression, though according to my aunt "He was a terrible shoe maker!"
Besides liking the wallet on a string trick, apparently my grandfather made beer and regularly played poker with other neighborhood men. I remember Mom talking about him going to jail for running numbers, but never found any old newspaper articles to support that.
But interestingly, I was just googling around on their old address, 710 Aisquith Street, a number I remember because it was the one Mom claimed was lucky (I do not think she made a huge lottery killing on it).
Hmmm, now I wonder what is the origin of the name of that street? Edward Aisquith led a group of riflemen in the war with the British, Aisquith's Sharp Shooters.
The unit ceased to exist as Aisquith's Sharp Shooters in March of 1815 when Edward Aisquith died in a fox hunting accident.
Ouch.
Interesting to note on Edward Aisquith's portrait in the Philadelphia Museum of Art, that it was the work prominent African American portrait artist Joshua Johnson:
The earliest documented professional African American artist, Joshua Johnson (whose last name sometimes appears as Johnston) worked as a portrait painter in Baltimore, where he produced more than eighty known works between 1795 and 1825. He may have begun life as a slave, but Johnson was certainly a free man by 1795, when he advertised himself as a self-taught "genius" in the Baltimore Intelligencer.
And if I keep digging up interesting tidbits like Johnson's biography, who knows where I will end up.
See how far I got from my family story?
So I did catch a reference to my grandfather Harry (at least a misspelling of his name) in the May 19, 1923 Frederick News: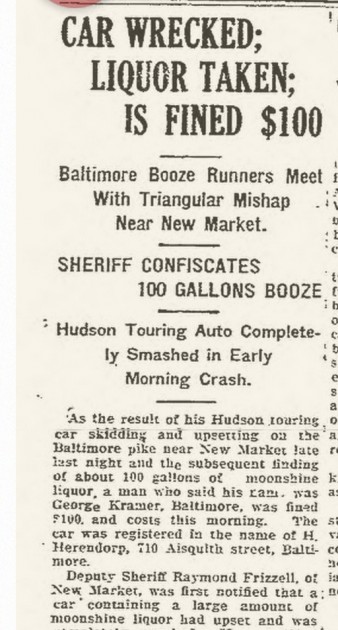 I guess grandpa had a connection on the moonshine running?
As the result of his Hudson touring car skidding and upsetting on the Baltimore Pike near New Market late last night and the subsequent finding of about 100 gallons of moonshine liquor, a man who said his name was George Kramer, Baltimore, was fined $100 and costs this morning. The car was registered in the name of H. Herondorp, 710 Aisquith street, Baltimore.
"H" was Harry, and the address matches for where they would have lived in 1923. I did find in online census records a George Kramer born in 1920 (too young) and another in 1908 (still probably too young). But anyhow, there is goes, my grandfather's name as owner of a car involved in a booze run. I am fairly sure there was no car in my grandparents home in the 1920s.
On that same trip in 2012, I recorded another conversation with my Mom's oldest sister, Ruth, who turned 93 this year. Aunt Ruth has gone into nursing during World War II, and she spoke a little about that experience, not a whole lot of detail. She spent her time at a base in Florida. I failed at getting her to say anything even approaching negative about my Mom, the worst was that in Mom's later visits, she "was a pest."
It's hard to form a full picture of what life was like on Aisquith Street in the 1930s. The houses are gone, this is the closest I can see in Google Street View. Their block has been torn down and is now a park between Monument St and Madision St. That's the 600 block of Aisquith Street south of Monument St, and the 800 block starts north of Madison.
Their house would have been somewhere inside where that running track is now.
It's possible some of these brick store fronts in the 600 block are from that era??
It's easy to imagine it like an old scratched, faded black and white photo, which of course it wasn't. I know in bits the neighbors were mixed race/ethnicity, Italian, German, Black, Greek. I see kids playing in the streets, I see people walking around talking to each other. I see "Mrs Snyder" who arranged my immigrant grandparent's marriage, stopping in to check on her work. I see a grandfather I never knew laughing at a joke or catching a bird to keep in his cabinet. I see a little girl with curly black hair, chasing a dog named "Jazzy". Or later there was one named "teddy."
That was my Mom. On Aisquith Street.
---
Top / featured photo of my Aunt Dorothy (2012 cc licensed (BY-SA) flickr photo by cogdogblog: http://flickr.com/photos/cogdog/8173814604