Blame Mike…
https://twitter.com/holden/status/568875343165071360
How can I avoid such a calling?
AT&T's 1983 rollout of the Viewtron System and Sceptre Videotex Terminal hits it all- information overload, online shopping, banking, and school, all with majorly poofy hair, and maybe some of the best eyebrow raises in corporate video history and some background upbeat midi music that rivals the nyan cat soundtrack.
This could not be done the same way as the MOOCing Machine mashup. I had a few choices, me try to dub in some voices over Mr "Touch The Tomorrow". I really wanted to use the 2012 TED Talk where Daphne Koller told us what she and Andrew and company learned from online education (not like there wasn't maybe 30 years of research…)
But again doing her voice to the track, while maybe comical, was not going to be even close to doable (with my skills). So I turned to another technique I can pull off with two video tracks in iMovie; make it a juxtaposition with the side by side overlay.
I present to Mike and others…
The AT&T movie was the base track, and its a matter of a lot of splitting of clips, moving boundaries, dropping audio on one track to emphasize the other:
And looking for places to connect the Future dude and Koller; like going from where he says "There has to be a better way" right to her saying "so we formed Coursera". Some great juxtapositions happen, some intentional, some just lucky.
The guy at the desk has maybe one of the best eyebrow raises right after she talks about Coursera's goal to "take the best courses from the best instructors at the best universities and to provide it to everyone around the world for free"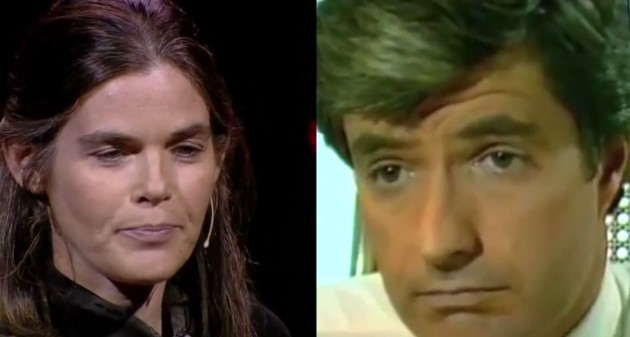 Thankfully we had AT&T around in 1983 to bring us the MOOCtronic, allowing us to "touch the future…today"
I found in the AT&T Technical Channel on YouTube almost 190 videos from their archives— but I cannot mash them all up.
It's your turn… today.