Aren't those shirts pretty? And they are part of a web site I made recently representing courses to be offered starting August at Virginia Commonwealth University.
I could not be more stoked to be part of another big, unfolding as we develop it, projects with Gardner Campbell and Company at VCU. Last year I helped with the development of the Thoughtvectors in Concept Space, a Connected course where we aggregated and wrangled six different sections of the same course, well over 100 student blogs feeding in.
Six seems like kids play this year. For the current project we will be connecting and meta aggregating at least 24 different courses. It's a big plan Gardner cooked up, a really really big show.
And it's about bicycles.
The city of Richmond, where the VCU campus is located, in September is hosting the UCI World Road Championship bike race, sort of like a Grand Prix for road racers. The event will interrupt a lot of regular services in the city, so classes are not scheduled, and as I understood it, students in the dorms were going to be sent home.
Gardner saw this as an opportunity, and put of funds for faculty to develop special 1 credit online courses in different disciplines, all related to the event or bicycling, from science to sociology to gender studies to business. The idea is each course has its own site (in the open), that will be generating written and media content, all of which is to be aggregated into some yet to be built/designed megamother blog called The Great VCU Bike Race Book. The word Book has implied quotes to play with the unkknown of what kind of end product comes out of this- it might be digital, print, both, or something else we invent.
Check out the brilliant teaser video created by Molly Ransome:
Sometime a few weeks ago VCU faculty submitted project proposals, which then were reviewed, and loaded in the system so the course sections would exist (these are all listed as sections of UNIV 291).
You can see the sly brilliance of Tom Woodward in the site's FAQ and the playful Bike Fortunes. There are something like 18 different event hashtags, but the one for this project is #vcubrb meant at least for us to document the project as we go. The faculty were charged with getting at least a course information site ready by May 4. Those VCU ALT lab magicians worked hard to get the faculty to an orientation session, set them up with blogs, and get them going with more than Hello World and a Sample Page.
Do you know what all this needs? Students. The word has to get out to students now to get them interested in signing up. No students, no courses. I believe Molly's video was designed to be played on the campus signage system. Jon Becker asked me and a few other by email about how we might attractively represent the 24 courses to students in something other than a list.
Spinning my wheels, I hoped to come up with something other than spinning wheels. The image that jumped out was representing the courses as colorful race jerseys. I saw how the project display of the Treble HTML theme I've used for a handful of projects this year could work, sending the I-Docs site I made for presentations last year at Skidmore College.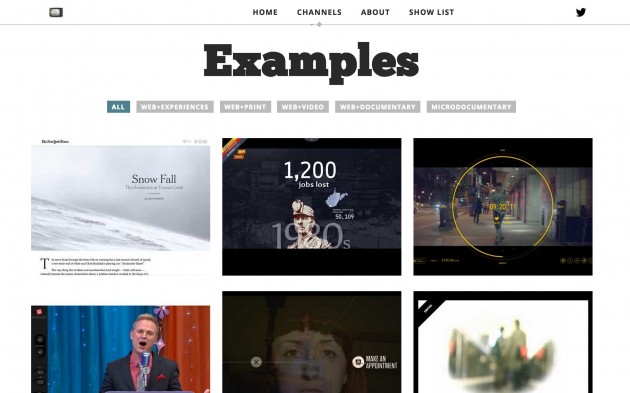 I could see this working, because the jQuery MixItUp plugin that makes it work let's you created categories for the items, and you can see items just in a category w/o leaving the page. And clicking any icon loads a bigger image and more info in a CSS overlay.
With my idea I sent just a photo of a jersey I found in a google search, and a mockup of it superimposed on a screen shot of the course site. The idea is the jerseys would represent each course, and clicking one would bring up a screen shot of the web sites that faculty had set up, with some info about the course. I saw the jerseys as more graphic style than photos.
And here is where I jump for joy. Usually I end up futzing around with finding images and trying to photoshop them the way I wanted. But in this case, the talented Emma Gauthier just created all the images. Like in a few hours of asking. I like just asking for media and having them created even better looking than I had imagined! Here is the full set:
I stripped out a lot of the parts of the Treble theme, and for fun put an animated GIF on the splash intro. Much to my surprise people liked the Pee Wee bicycle (this the un-used prototype). But as we looked closer, the top image was not necessary, so I reduced it to a more simple page with just the grid of jerseys.
It took a fair bit of cut and paste, checking against the course info spreadsheets to get everything in place. I took some liberty with editing the course info, some of the descriptions on the blogs sites are very long, others very short.
And I ran into a troubling bug last night that caused a few of the jersey's to be nudged down to a new line, leaving blank spots. I could tell that some of the grid items where taller than others. None of my CSS tricks worked. It was not until using the element inspector this morning I saw that a few of them were getting extra margin at the top. It was my own fault for using "media" as a class name to represent one group of courses, where the CSS has a style for that class that was adding the unwanted margin.
Blah blah. Fast forward. Tom Woodward was able to iframe in the while thing to the WordPress site, and it works (I hope) like a champ: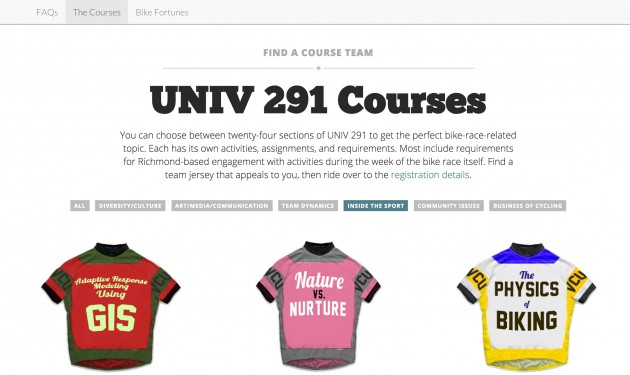 I took a bit of a guess work at coming up with the groupings for the course, based on a review of their description. This might change. I suggested not doing it by discipline (which is how the university usually sees it self organized) but trying to think about the ways students may look at them. We will likely tweak them. It's an easy edit, just adding class names to a list item (that's CODE talk).
I just dig this project and the metaphors it provides, and most of all, getting to work with the best race team one could ask for.
Stay tuned to http://greatvcubikeracebook.net/ and #vcubrb on twitter, there will be all kinds of opportunities to be part of the open experience.