Internet, you so fickle.
Without much thought, you ca share something frivolous and people are all over it. You're on fire.
You get an idea in your head you think will get spread, and it falls like a lead rock on Jupiter.
I've only marginally followed the story, but seeing Brett Gaylor's tweet
Robot hitch hikes all the way across Canada. High fives all around. Destroyed immediately on US attempt http://t.co/ozpx84fKqL

— Brett Gaylor (he/him) (@remixmanifesto) August 3, 2015
I got in my head the "Stay Out of Malibu" scene from The Great Lebowski
I thought about doing a quick GIF with imgur, but it kept bombing out
So I rolled up my sleeves, downloaded the video as mp4, trimmed it shorter in MPEGStream Clip, imported into Photoshop at 2 frames a second. I found the frame with Lebowski on the carpet
And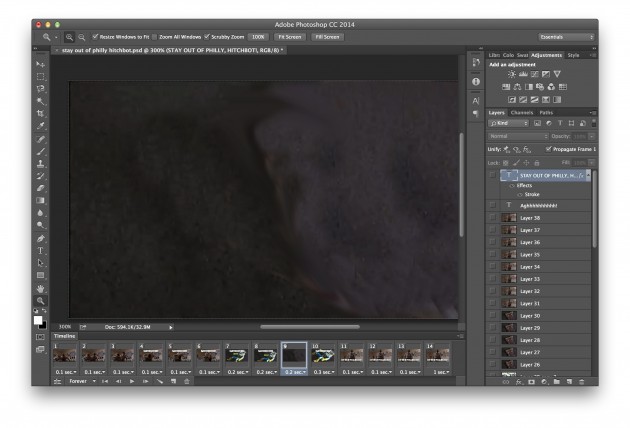 clone brushed him out of the scene.
This let me pull in a copy shape of HitchBot, and did a few frames of it rotated and scale at different angles
Then tweak some inter0frame timing, add some text, and here comes my wide spread Meme Making fame!
Tweet it and sit back and wait… wait… wait…
Crickets.
Of course, the attention is not why I made this. I just saw it in my mind and challenged myself to make it within 30 minutes. That is the reason. If anyone likes it, well, that's just a biddy bonus.
I think it's funny.
And that is all I need.
---
Top / Featured Image Credits: Yes we at CogDOGBlog are an equal opportunity house of featured images, so cats get their turn too– flickr photo by Simply Bike http://flickr.com/photos/simplybike/5752750733 shared under a Creative Commons (BY-NC-ND) license