When John Pederson (or "Balki Bartokomous"?) launches a softie like this
https://twitter.com/ijohnpederson/status/646833331045163008
how can I resist the urge to remix? Not only are the reaction shots brilliant., but the whistler's facial contortions are priceless. This was about 25 minutes of iMovie twiddling, it's so easy a cat could do it
I downloaded the Amazing Whistling Guy video (using the browser add on from best downloader ever, SaveFrom.net) and a shorter clip of Dean Shareski.
Here's the iMovie work area: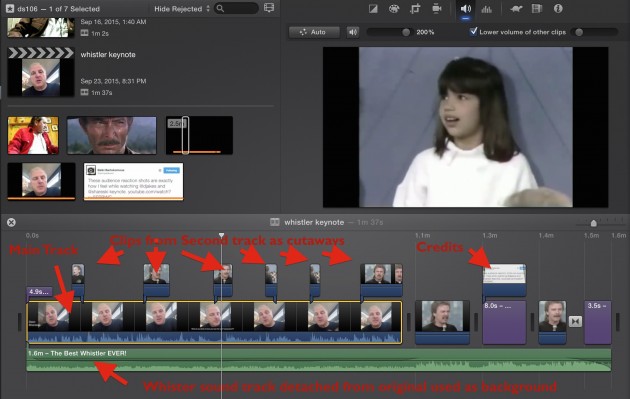 I put both clips in the timeline together. I then separate the audio track from the whistler, and slide that under Dean, and remove the rest of the whistling video. Next I pull a clip of a reaction shot into the top video track and mute its video, to start making cut away shots.
After the first cut away, I split the clip, and then find the next segment, split it and repeat, until I have all the cutaway shots. I slide them down the track to be reactions to Dean's lines. The audio setting for Dean's track is set to reduce the volume of other tracks, essentially ducking him over the whistlers.
A few more bits for titles, publish to YouTube, tweet, and it's in the can, Stan.
Count this as ds106 work because it and I are #4life
---
Top / Featured Image credit: Found at Top Dog Training Help. Google images sez its licensed for re-use; the site sez nothing. Google must be right.