For more of a lead up to a western flavored version of DS106 starting January 2016, I aimed for another video to solicit interest from KSU students, where I will be teaching it.
Bill Genereux suggested doing a video that might be able to go on their local access TV. I had this idea to have us do a Skype call for audio recording, with the idea of overlaying our conversation on clips of western movies where the characters are conversing. Like we had just ridden our horses up on a wide open frontier of storytelling and starting talking about the vastness of the space. Not quite a dub, but… well it is like this
So we are hoping to kick up some dust so that KSU students register for the online course that runs Jan 16 to May 6… CMST 299 Topics in Computer Systems Technology : Digital Storytelling, anyone in the KSU system can get credit for it. If understood Bill correctly, people elsewhere can of course register of they want some official KSU credit.
But of course, the ds106 thing is that you can take it for your own interests, as a DS106 open participant. You will need a blog and a twitter account; it is generally easier to hitch a blog solely devoted to this course, but not required.
So far, the folks riding with us are going to be the KSU students who sign up for my class and Paul Bond and his ds106 class at University of Mary Washington. In February, 2016, I will be down in the Puerto Rican reaches of the West with Antonio Vantaggiato and we have plans for his media students to ride some with us. Bill has another class at KSU that might be hitched.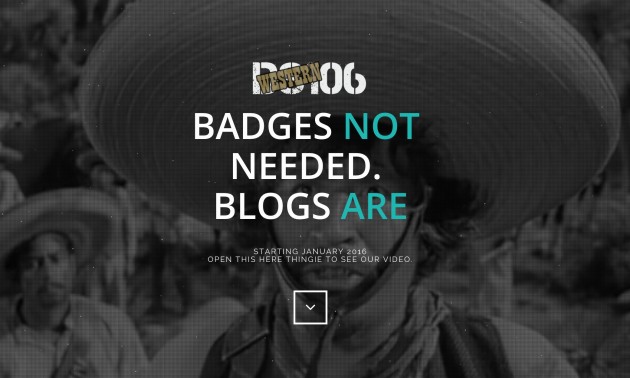 There is room here for more, of course.
I did send up an open google doc where we are rustlingly up as many examples of movies, tv shows, books, novels, music that might be called "Western". I was pleased as sarsaparilla tea to see some nice feller named "Stephen" (heck I bet he might be Canadian) add a batch of links to radio shows to the doc. This totally fits in with our use of DS106 Radio.
I'm pretty excited to be teaching again, especially for ds106. If you've been reading or hearing about it, or if you just are just plum tired of those XMOOC stampedes, this could be your golden chance to get a real open web creative jamboree experience. Just jump.
In January.
There will be stuff set in place before the course, so keep your eyes peeled to http://106tricks.net (where the screen images come from, its a dern pretty lil web site if I say so myself).
There is a much longer version of the video too, some 18 minutes, where I have included a few more clips related to ds106. If you are just tired of sitting around the campfire and have heard all the tunes Ole Lucky has blown on his harmonica, check this one out https://vimeo.com/143407387.
But I still think my Big106ie is my favorite western flick so far.
Get yer creative boots on for #Western106
---
Top / Featured Image credit: A screen shot of a web site I made (http://106tricks.net). No argument that I can use a screenshot of my own site, so why is it a problem to make a screenshot of someone else's site? Ot is it? My shot shows a still image of a frame from the movie City Slickers, for which I have no permission. Am I really copying? See how messy this gets?