You, put down the iPhone. Let's reminisce on the sheer excitement of a camera that you could actually see your photos by counting to 60, and then peeling back a sheet of emulsion? Look how excited people are in that left side ad to see "instant" photos.
This Polaroid Land Camera, the Automatic 210 belonged to my grandmother. I'm not quite remembering her pulling it out, but that she likely got it for her travels. All I know is that after she passed away, I got the camera. Or maybe she gave it before, knowing my interest in photography (this photo I took of her with a borrowed Pentax for my first film photo class in 1986).
I did read that this camera came out in 1967:
Introduced in 1967, the Polaroid Land Camera "Automatic 210" is affectionately referred to as the "'67 Plastic Fantastic" by FPP founder Michael Raso because this model Polaroid was one of the first Land Cameras to be sold in the millions at a very affordable price – therefore making it ultra-affordable for every family on the block
Hah! Plastic Fantastic. Funny that in 1967 the movie The Graduate came out, the one where Dustin Hoffman's character Ben Braddock gets the speech about "plastics"
The ads for the 210 emphasize the 60-second excitement, that period of anticipation waiting for the photo to do its magic, and then peeling off the cover to see the moment that just happened recorded in a photo you can hold in your hand. Check out this 1967 ad, notice how you see people's reaction to the photos, but never see a photo til the end.
https://www.youtube.com/watch?v=7EzY09FLBsc
For the most part, I have just had the Polaroid camera as a Cool Thing to Have on the Shelf. Back in 2011 I got curious again, got some film, but shot all black blanks…
Of course, a month later it dawned in me the 4.5V battery was dead.
I had read some things on the internet that I could cut the battery and replace it with a pair of AAs. I hacked my camera (not much, just cut the battery, and the electrical taped in the AA battery holder. And I got some photos out of it!
The black and whites have a real sense of long ago time to them, eh?
The funny thing was recently, that an Ellen Jo Roberts sent a few comments on the March 2011 photo where she suggested the battery was a problem.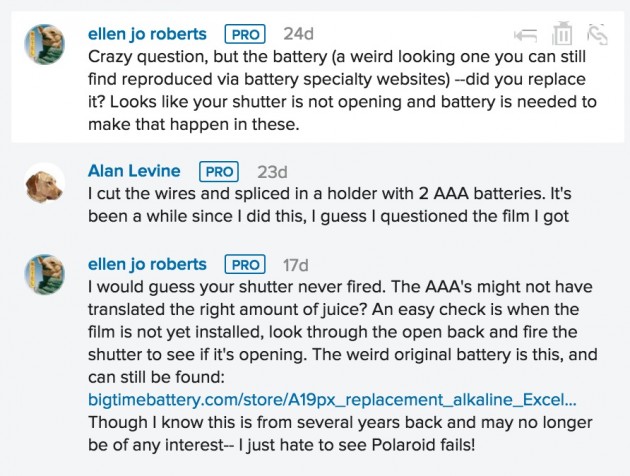 I started thinking I had made a math error- the original battery was 4.5V, yet I had put in only 3V of battery with the AA's of course that's the problem. So I found a new 4.5V battery on Amazon, and re-rigged it in.
Of course, if I checked my flickr trail more carefully, I would have seen that the March 2011 photos were before I swapped out the battery pack, and the later photos did show it was working with 3V of juice.
But now I have a full battery in it, and took my first round of photos today. What's new, that was not there in 2011 (I am guessing) is the Fuji FP-100c film, newly made film that is color (all my previous tries were black and white).
and I took it outback, and got a successful photo.
So what's the point? Is it just hipster retro to carry around a bulky old camera and take analog photos with film that ends up costing $1.10 per print? Is there something to that 60-seconds of anticipatory excitement (actually mine today were 120-seconds) that we forget in the instant gratification of digital photos? Is it the memory of my grandmother?
Who knows? What I do know is I have 7 photos left to take. And I am trying to think what could be interesting to do with this old photo format.
Plastic Fantastic indeed.
---
Top / Featured Image Credits: Left side image is a flickr photo by classic_film http://flickr.com/photos/29069717@N02/16020579776 shared under a Creative Commons (BY-NC) license; the one on the right is from an ebay ad. 1 outta 2 ain't bad?