Ok, I am putting a ton of time into setting up stuff for Western 106, and it's eating in my time to even do some stuff (what are those, excuses?). Part of Unit 1: Blog Riding Camp was written to have participants explore some short form stories, from either TV shows, short fiction, radio shows, or comics:
Each unit we will recommend some things to read, watch or listen to (and we will ask you soon to help add to this list) to explore the Western Genre. Yes, you can look up other people's definitions, but isn't it better to form your own?

So the last bit for this unit, we ask that you find at least two short Western stories from different media forms, and write a blog post about what you learned or felt about the story
Apache Jack's 105th Birthday
I went off list for my first one. See, make up your own rules for DS106? Back in November, I was in Cottonwood Arizona and picked up this magazine in an antique store: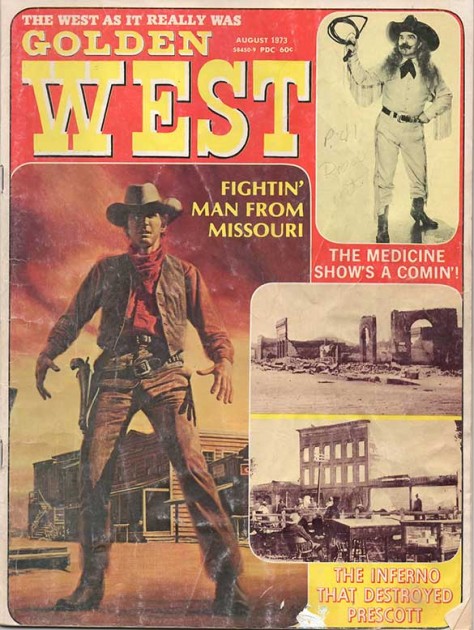 I thought it might be a comic (it was sealed in plastic), but actually it's more of a pulp magazine. The story that interested me was the one about the 1900 fire that burned down most of Prescott, AZ (a good story, it seems factual).. but for my reading, I settled on the story on page 37, "Apache Jack's 105th Birthday"
He knew Cochise and Geronimo, Wyatt Earp an Doc Holliday, and the Apache blood of his mother mixed with his father's Irish blood produced a man who was hard and fought to stay alive. But when a friend showed him a kindness shortly before he died, Apache Jack Kelly's tears flowed freely.
That's him in the cover photo, looking bewildered and out of place with a birthday cake. I scanned the article into a PDF, in theory a total copyright violation. I cannot even find any remnant of this publication online except for sales on ebay, and a name for a different magazine related to a womens' singing group.
Apache Jack's 105th Birthday (PDF)
Talk about western name dropping in that first sentence! Apache Jack, was born Daniel James Kelly in Tombstone AZ on December 8, 1859. Look at those dates, and figure the span of genres and history 106 years will cover. His father emigrated to the US from Ireland, fought on the Union side in the Civil War, and married Lizzy Crosseye, a Chiricahua Apache who was also the daughter of Geronimo's third wide. Kelly's father died in the Civil war so he grew up among the Apaches.
At 15 young Apache Jack said he witnessed the burial of Cochise, the exact location is still not for certain.
After his mother died, Kelly went back to the white world to make a living, going back to Tombstone, and would have been there in the era of Wyatt Earp and Doc Holliday. Kelly had said that he disliked the Earp Brothers except for Wyatt:
"He was different," he said. "He really cleaned up Tombstone– and he wasn't afraid of the devil himself"
There you go. The article says that kelly came into possession of Wyatt Earp's gun and holster (but does not say what happened to it). It says he became a "swamper" (Wikipedia defines it as a person who does odd jobs) crossing Arizona "with different freighters" which must mean? horse drawn freight deliveries?? He did well as a driver because he spoke the Apache language "and never had any trouble with the Indians."
How did he move on in the world? After working in the mines, he invested his money in…
Education! Distance Learning!
Apparently Apache Jack Kelly made enough money in the mines to take a correspondence course in mining engineering and mineralogy, which helped him locate an asbestos mine in the Castle Dome Mountains not far from Yuma, and a cinnabar mine in central Arizona.
I cannot help but wonder if this was the same International Correspondence School I found that my Grandfather also got a degree from in the early 1900s. The ICS was started in Pennsylvania in 1890 with first programs in mining safety.
Apache Jack traveled some, but was rooted in Arizona. He never married, and ended up in a Yuma Nursing home. It was there he met Art Hawk, a newspaperman who befriended him. Their last trip together was a bit of a road trip, eventually to Hawk's home, for the surprise birthday party shown in the front of the article.
My interest in the article was in appreciating that relatively recently (well 1973 is now a while ago, but that was the era I was growing up) you could talk to someone who was born in the Old West. It's easy to get tripped up in the images of Western movies as something that was fixed like that. But people like Apache Jack was raised by Apaches, rode horses, later drove cars, and saw airplanes, TV, radio, a moon landing.
It makes you wonder what it would be like to have such a life span.
The Suave and Winning Bat Masterson
To watch a western TV episode, I dove into one of the playlists listed in Unit 1, one with 200 videos from WesternsOnTelevision. I scrolled down the list looking for one I was not familiar with (most of them), and landed on an episode of the Bat Masterson TV show called "The Fighter"
Now the name Bat Masterson is familiar, but I really know nothing of it. This was a TV series from 1958-1961 starring Gene Barry as the lead character.
Dressed-up dandy (derby and cane), gambler and lawman roams the West charming women and defending the unjustly accused. His primary weapon was his wit (and cane) rather than his gun.
Can you say cliché?
Okay, in this episode, Masterson visits Silverton Colorado where he comes across a boxing match where a fighter he is impressed with is abused by his manager, who throws in a gimmick that makes the fight unfair for the sake of the betting crowd.
Bat just barges in (after flirting with the woman with the umbrella, there is the charming women part), stops the fight (the unjust part).
So there is your female figure, Polly Mathers, the owner of the saloon, affiliate of the rogue boxing manager, and someone who may just cross Bat.
Masterson doe snot even wear a cowboy hat, but that black derby hat (hence the description as a dandy), and walks around swirling his gold knobbed walking stick. He wins everybody's money at poker, including the manager of the fighter he crossed. Masterson eventually wins the young fighter's contract.
Days later, with Masterson's coaching (apparently he is a boxing guru "everyone knows"), the kid is set for another fight. There are some shenanigans with some heavy objects hidden in his opponent's gloves. Polly tricks Masterson and he gets trapped by the bad guys as the fight starts. Masterson gets hs way out of a jam with a card toss fake, and knocking the bad guy with is stick.
He shows up at the match as his fighter hits the deck. Masterson exposes the rocks in the opponents gloves, and calls out the nemesis manager, challenging him to a fight.
We get some shorts off look at the ripped Masterson, who pummels the other guy. The young kid wants to finish his fight, and also knocks out his opponent.
Polly offers Masterson a deal to be her partner, but you know he will refuse it. He ships the young fighter off to be trained by some colleague in San Francisco.
Roll credits, and we can guess next week he is in another town, flirting with another woman, and getting in fights with unfair men.
It's pretty easy to see how simple the plots are here, but this is the kind of show that was popular in the era (this episode was from November 5, 1958). It's a time when America is looking for heroic figures after the Korean War, and its still a naive time before Vietnam, the Civil Rights battles, and the rise of 1960s counter culture. Situated in the late 1800s, Bat Masterson is aimed at pitching an image of "cool" and control.
Apparently he barely uses his gun, using more of his wit, charm, and that stick.
Yet this is no Hollywood construction (it may be a paint job) since Bat Masterson is a historical figure. According to his Wikipedia article
William Barclay "Bat" Masterson (November 26, 1853 – October 25, 1921) spent the first half of his life in what is remembered as the "Wild West." During that period, he distinguished himself as a buffalo hunter, Indian fighter during the celebrated "Battle of Adobe Walls," civilian scout for the U.S. Army, gunfighter and lawman in Dodge City, Kansas and elsewhere. That "Wild West" phase of Masterson's life was essentially over by the mid 1880s when he was still in his early thirties. Masterson moved to Denver and established himself as a leading "sporting man," or gambler. He took an interest in prizefighting and became a leading authority on the sport. He would attend almost every important match and title fight in the United States from the 1880s until his death in 1921. He knew, and was known by, all of the Heavyweight Champions from John L. Sullivan and James J. "Gentleman Jim" Corbett to Jack Johnson and Jack Dempsey. He moved to New York City in 1902 and would spend the rest of his life there as a reporter and columnist for the New York Morning Telegraph. Bat's column not only covered boxing, and other sports, but also gave his frequent opinions on crime, war, politics and other subjects. He became a close friend of President Theodore Roosevelt and became one of the "White House Gunfighters" (along with Pat Garrett and Ben Daniels) who received federal appointments from Roosevelt. He was known throughout the country as a leading sports writer and celebrity at the time of his death in 1921.
Cowboy? Masterson was born in what is now Quebec, but came to America to first seek his fortune as a Buffalo hunter. He was cheated by his employer, and Masterson spent a year tracking down the guy, and forcibly retrieving what he was owned in an encounter on the back of a moving train.
Young badass. He is then part of the five day siege in Texas of a battle with Indians called "Adobe Walls" (no link on this, Wikipedia). He goes on to be in gunfights but eventually a lawman in Dodge City, Kansas. He was a sheriff and was saved from a jam by Wild Bill Cody.
Ironically, Masterson is an acquaintance of Wyatt Earp (is the West really a big tiny neighborhood where everyone knows each other?) and spends two months in Tombstone around 1881. One might guess odds are good he hung around with Apache Jack!
Here is Masterson and Earp in 1876, Bat's hand is resting on his gun. They look so grim@
And here they are later as part of a "peace commission" in Dodge City
Masterson was involved in boxing matches, and was a timekeeper for the fighter with John Sullivan in an 1889 Heavyweight Championship fight.
Despite his wide acclaim as a boxing authority, Bat had a consistent habit of backing the loser in nearly every championship fight he attended between 1889 and 1921.
Masterson lived some in Denver and eventually New York in the early 1900s. He was befriended by Teddy Roosevelt, and eventually became a writer for the New York Daily Telegraph:
Bat's column, "Masterson's Views on Timely Topics," concerned sports in general and Boxing in particular. The column appeared three times a week from 1903 until Bat's death in 1921.
Here is the "Westerner" in 1911 in New York City, still sporting the derby hat.
Masterson's final resting spot is the Woodlawn Cemetery in the Bronx.
See also the HistoryNet article on Bat Masterson and the Smithsonian Magazine's When New York City Tamed the Feared Gunslinger Bat Masterson.
Read more: http://www.smithsonianmag.com/history/when-new-york-city-tamed-the-feared-gunslinger-bat-masterson-14420527/#F8IeXQ5Hg5lB2Eu3.99
Give the gift of Smithsonian magazine for only $12! http://bit.ly/1cGUiGv
Follow us: @SmithsonianMag on Twitter
Again, like Apache Jack, Masterson is a figure who was born in the hey day of the old west, but lived, and transformed his life afterward. No one, except in the Hollywood movies, stays forever riding horses and shooting guns.
Time won't let you do that.
---
Top / Featured Image Credits: Collage image clockwise from top left: scan from cover of Golden West magazine I bought at antique store; still from Bat Masterson TV show "The Fighter" episode found on YouTube, scan from Apache Jack article from Golden West magazine.