That is true – a beautiful month in Puerto Rico; that was my February of 2016 thanks to an invitation from Antonio Vantaggiato to spend a month with him and staff/students in the STEMmED project at Universidad del Sagrado del Corazón in San Juan, Puerto Rico.
And it's not the first time Antonio has been so gracious; first was in 2013 and second was just this past October when he asked me to speak at their TEDx USagradoCorazon event.
I put together a summary of the things there as a quasi portfolio type thing, but also so they knew where "stuff" was, as a page on the STEMmED site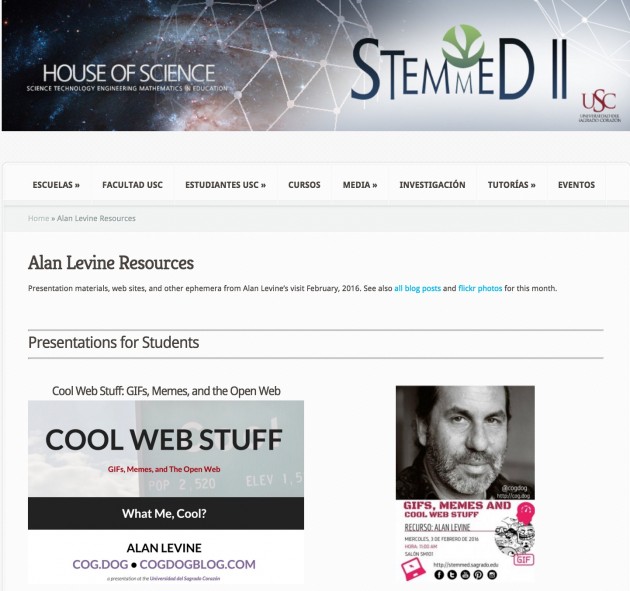 which included:
That was just a part of the experience. There was the beach I could walk to. The mofongo. A free library in the street (two locations). Old San Juan. The mix of decay and modern in just a few blocks of Ponce de Leon Avenue. Stunning street art and murals on small and large scale. A student I met named Jose who showed me the lively culture in the Rio Piedras area. And road trips with Antonio and his wife to see the mountains and shore areas outside of the city.
And the warmth and welcome of people at Sagrado like Gladys, Bernabé, Sheila, Giovannie, Dorabel, John, Myra (a few Myras), and many more whose names I got mixed up.
And stunning sunsets. Stunning.
It's there in a few hundred photos and 42 blog posts (not all directly related, but hey).
I wish I could say my Spanish improved significantly, but quizás un poco? Actually just walking around and reading as many signs as possible felt like it helped some. At least I will stop pronouncing it as "POR-toe REE-koh"
It is a place of such contrasts.
And always possibility. With all the challenges this place faces, I have seen much to be optimistic about.
---
Top / Featured Image: That's my own photo https://flickr.com/photos/cogdog/24863152095 shared under a Creative Commons (BY) license. This is the original and main campus building of Universidad del Sagrado del Corazón in San Juan, Puerto Rico.
As you can see they are catering to interests in social media with these signs that were set up- my first weekend was an open house for prospective students, quite a festive atmosphere.