Once a media idea worms into my head, it's gotta play out before I can do other things. So it was this morning, leading to this:
Jim Groom has been running fun and wild with the record store metaphor for Reclaim Hosting, fueled by the recognizable style of Bryan Mathers. My coffee was still brewing when I saw this tweet showing the logo Bryan had designed spinning as an animated GIF:
Here is a new, awesome take on @reclaimhosting's logo–a GIF! @BryanMMathers you rule! pic.twitter.com/d4U2ZyYsac

— Jim Groom (@jimgroom) April 22, 2016
This tickling thing happened in my head like, "I'd like to remix that somehow". My first thought was to add on to the GIF, what I thought it needed was the movement of the turntable arm and a needle drop. Neurons started to rumble, and I could see a bit how I'd have to lay it out in Photoshop.
But then I glanced at my own music setup where there is a turntable, and a new vision came into my mind of a video recording the real drop of the needle– and then when I remembered I had some extra Reclaim Hosting stickers on my shelf, it clicked.
A pause. It struck me later that with a few things I do- videos, WordPress, web design, Photoshop mashups– that I have enough experience (not that I have it all) to pretty much visualize how a thing can be created. Not crystal clear, but enough confidence and familiarity to see more or less the outlines of a creation. Much often develops as I do it, but there's something about having enough chops to go into something like this to almost see it before it's done.
That's what happened today, without a storyboard. I could see:
Taking some album off the shelf, and covering it's label with a Reclaim Sticker (I'd have to punch a hole in it)
Setting up my DSLR on a tripod, probably needing some side lights, and recording the start up sequence. Actually start with the sound of the record coming out of the sleeve.
Getting some background track of the kind of "pop and hiss and crackle" that you get on vinyl.
Overlaying some song that was connected to Reclaim Hosting (doth it mean punk?)
Jim of course is the guy to ask for an idea for a song, and he delivered…
@cogdog @BryanMMathers @ReclaimHosting I would be excited if it where History Lesson Pt 2 by the Minutemen :) "our band could be your life"

— Jim Groom (@jimgroom) April 22, 2016
Of course, the Minutemen informed a lot of the first wave of DS106- in fact the password for a while on ds106 radio was from the documentary We Jam Econo. Plus, The Minutemen are like the muse of Noiseprofessor. Perfect choice, El Jefe!
Rather than diving in, I took the dog for a walk, and let the idea simmer…
I rummaged through the albums I had and decided to use an EP from the Eurythmics (I remembered not liking them all that much in the early MTV days, but after seeing them live at Merriwether Post Pavillion in Columbia MD in the early 1980s, well that changed).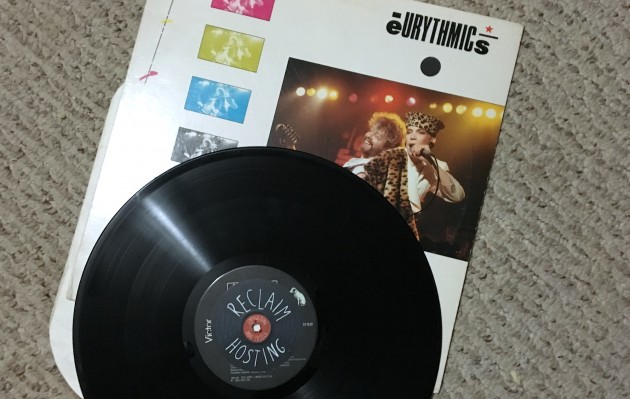 But yikes I had no hole punch so I ended up making a somewhat ragged hole with an exacto knife. There is something appropriate in that the old label is not completely covered up — you can see the RCA dog (you do know his name is Nipper, right?). It's kind of like trading in Bluehost for Reclaim Hosting.
I then got my movie set ready (which included wiping off a lot of dust from the turntable), and did a few test shots with the Canon 7D on a tripod. I went with a high ISO so I could go to an aperture like f/11 hoping to get the needle and the label in focus together.
By the way, that Realistic Lab-400 sweet turntable came to me from Vancouver from Jason Toal, who got it before from Grant Potter. It's All in the Ds106 Radio Family.
I did but one take on the video. Actually when i started the camera, Felix was lapping up water from his bowl, but that got cut. And the on camera mic picked up a little buzz. But it was Good Enough.
For the Minutemen track, I used a YouTube video of a version they payed live in 1985:
After downloading it as MP4 fro YouTube (I use the SaveFrom.net extension), I import it into Audacity, and then exported the audio as a WAV file.
I also went to Freesound to get a Creative Commons audio track of Crackle Collage.
Oh, and the animated logo GIF that Jim tweeted? Here is a nifty trick– GIFs posted to twitter are actually published as MP4, not .GIF, so I just could download it from Twitter as a video file. So let's say you want to use an animated GIF in a video — you cannot import them into iMovie, but you could tweet the GIF, then download it as MP4.
Everything was assembled in iMovie…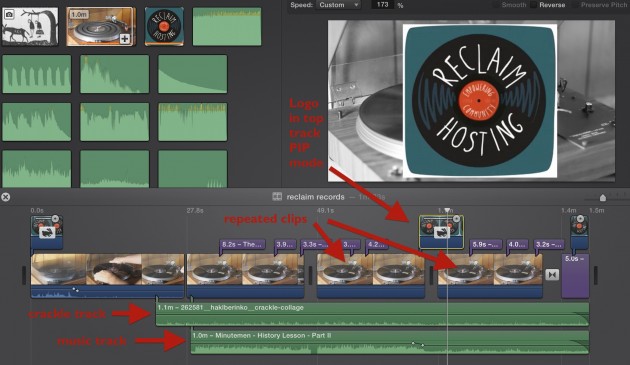 While not everything Final Cut has, I do all my movie remixes in iMovie– I can really push its limits. A key was getting a handle in the upper video track, where I put the animated logo. By using the Picture in Picture Mode, the logo sits above, but does not block, the whole video, and I could resize it. I used te speed adjustment to speed it up (it was about 10 seconds long).
I stack the audio, so the crackle sound (with tis volume reduced) is in the background of the music, to give it that vinyl feel. And I did not have enough length of the turntable video, but since it is just a repeat, I split the end of the clip, and copied it twice more to extend the sequence. I even superimposed the Reclaim logo over the junction to mask a little bit of jiggle.
The rest is adding some text. Here is another trick I use- to fade the last clip, you cannot just drop a Fade to black transition on the last clip (because there is nothing to transition to), so I put in a title clip after my last video sequence, and remove all the text, so I have a black screen. Then I can drop a fade to black transition on it, and extend the audio to go out beneath it (you can do a lot with fades at the end of audio track, or add cuepoints and raise/lower volumes as needed within).
And there you go. One tweeted GIF set me off down this road.
I love doing this stuff.
---
Top / Featured Image: A test show taken while setting up my Canon 7D to shoot some video of the turntable. My flickr photo https://flickr.com/photos/cogdog/25982777754 shared under a Creative Commons (BY) license