Likely you have had the experience of a problem with the way a web site works, or information that is wrong missing, and finding it nearly impossible to communicate with a human. I had this issue with the site where I order my mail order prescriptions – the phone number was wrong, the message I sent by contact form went un-answered for a week, and when it did, I had to create some kind of cisco account to read a secured email message that said… "Thanks for your feedback".
Where are the people in these systems? Hidden, as my vain attempts were to contact, report to Facebook issues of fake accounts. All responses were from a donotreply address, and only once had the name of the person who sent the message. You cannot even find a customer service phone number.
Peopleless.
And I know what I describe below won't "scale" but the way my kind of internet works is person to person. I will respond to every [non spam] comment, web site feedback, twitter message that warrants one.
Here is how my kind of internet works.
Last week, in a reply to my post on Attribution, Wes Fryer tweeted a reference to an attribution tool that was new to me.
.@_briank_ @cogdog I love https://t.co/XVzgwHScEi to create attribution code for Flickr @creativecommons images I use in blog posts #digcit

— Wesley Fryer, Ph.D. ??? (@wfryer) December 30, 2016
As a creator of my own flickr attribution tool, I was curious to see what another one can do (not as "competition", we can always use more than one screwdriver in the toolbox). Imagecodr expresses the exact reason I made my own CC Flickr Attribution helper, how many steps it was taking me to go back and forth to publish a photo attribution (plus I was rarely consistent):
And if you follow the example link, you can see how nicely it works- you get a nice representation of the license rights: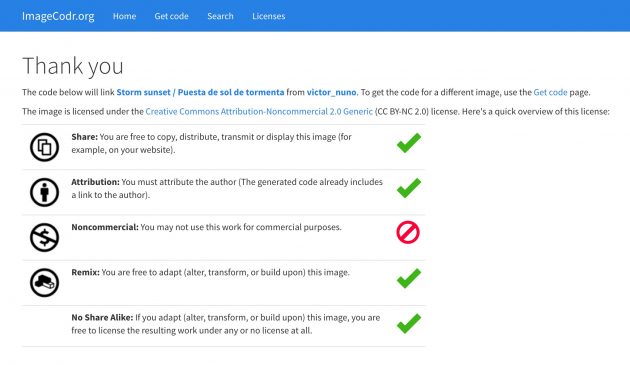 And below, you get to dynamically chose the embedded image size, and easily grab the cut and paste HTML you need to use it in your own site:
And in the spirit that all attributions links are good but not always the same, what Imagecodr provides includes more semantic markup than mine. And they also have a bookmarklet tool that you can use while looking at flickr images.
Great! So I decided to give it a try, with of course, one of my own photos.
Needless to say, I was surprised when ImageCodr reported my photo, which is licesed CC0, was copyrighted? WTF Oops?
I tried again, and then another photo. Same deal. I can always complain in twitter, that always accomplishes something 😉
Imagecodr looks good, but incorrectly sez public domain photo is copyrighted https://t.co/m1MhyoNgLi

— Alan Levine (@cogdog) December 30, 2016
But at the footer of the ImageCodr was a link to the developer's site, Michael "Tex" Hex. This is a person, not a faceless corporate wall. Michael lives in Germany, and comes off right away as a human being:
I don't think of myself as a software- or system architect, neither as a software artist, but as a Transmogrifier. That's because in IT it's all about transmogrifying data from A to B, no matter what you do. Saying that, you don't wonder that my blog is called Information Transmogrification as well.

Beside computers, I enjoy riding with my BMW K1300S through Germany and France. You may have a look at my tours and tracks at GPSies.com.
.. who likes bikes. Solid.
And he has a contact form, which I used to explain the problem.
Two days later he wrote back (in regular old email) and asked my to try again. He fixed the site to deal with CC0 licenses. And yep, it now works. Here is the copy/paste attribution for my photo:
which does have more information in it than my tool:
<

div

about

=

'https://farm1.static.flickr.com/399/31937680396_ceb373ca1a.jpg'

>

<

a

href

=

'https://www.flickr.com/photos/cogdog/31937680396/'

target

=

'_blank'

>

<

img

xmlns

:

dct

=

'http://purl.org/dc/terms/'

href

=

'http://purl.org/dc/dcmitype/StillImage'

rel

=

'dct:type'

src

=

'https://farm1.static.flickr.com/399/31937680396_ceb373ca1a.jpg'

alt

=

'With this Light... by cogdogblog, on Flickr'

title

=

'With this Light... by cogdogblog, on Flickr'

border

=

'0'

/

>

<

/

a

>

<

br

/

>

&quot;

<

a

href

=

'https://www.flickr.com/photos/cogdog/31937680396/'

target

=

'_blank'

>

With

this

Light

...

<

/

a

>

&quot;

&nbsp;

(

<

a

rel

=

'license'

href

=

'https://creativecommons.org/publicdomain/zero/1.0/'

target

=

'_blank'

>

Public

Domain

<

/

a

>

)

&nbsp;

by

&nbsp;

<

a

xmlns

:

cc

=

'http://creativecommons.org/ns#'

rel

=

'cc:attributionURL'

property

=

'cc:attributionName'

href

=

'https://www.flickr.com/people/cogdog/'

target

=

'_blank'

>

cogdogblog

<

/

a

>

<

/

div

>
So just for grins, compared to the same attribution created with my flickr CC Attribution Helper
We can make more of this kind of internet.
Person to person.
---
Top / Featured Image: Arpanet Logical map from 1977 Wikimedia Commons image from The Computer History Museum shared under a Public Domain license.