per·mu·ta·tion p?rmyo?o?t?SH(?)n/ noun a way, especially one of several possible variations, in which a set or number of things can be ordered or arranged.
Often I am asked if "this is the right way to do attribution" for something openly licensed. Most of the time I am tempted to reply, if you are attributing at all, yes. Because most Creative Commons licenses are worded with technical language requiring attribution (that's the BY by the way).
But there ain't no one out there patrolling for attribution compliance. I tried playing a cop once and it failed.
Is Yoda right?
Creative Commons does provide a good set of suggestions for best practices for attribution, where the key elements to aim for are TASL- Title, author, source, and license. It does not define how you do that, and depending on your medium, you may not be able to do it all.
In my work this year on the CC Certification project I was made aware that my language on CC0 Public domain is wrong. It's not a licence, it is a dedication into the public domain.
I found that, while spouting on and on about attribution, have been short in the including the T, which lead me to improve my main tool for attributing flickr photos.
Still for other sites, like the Wikimedia Commons image I used in this post, getting all the TASL was maybe an 8 click copy/paste round trip.
So it's messy, and as so, when dealing with media from different sites, even with a style / approach honed (I prefer to say something is "shared under" CC-license) I am rarely perfectly consistent.
No one is grading us, folks. Anything, is better than nothing.
Do.
All this comes from a tweet recently from Jenny Haymen
working on an online horticulture course, looking for CC BY pic of vegetable garden soil, @cogdog garden pops up, what are the chances? pic.twitter.com/6oKiSdlJlC

— Jenni Hayman (@jennihayman) February 17, 2017
I mis-read it first; I thought she was asking me to help find an image, but when I returned, she was thanking me for a photo that I do recognize as one I have taken in the past (because the walls have changed and a firewood bin now sits in back) of my own garden.
Twitter is really problematic because there is hardly enough room to say what you want to say, much less give media attribution. So it becomes a giant compost bin of context-less media that says, "grab 'n go".
Last night I aimed to reply to Jenni (I have this weird compulsive habit to respond to people in twitter), I decided to find my own photo with a reverse image search (please tell me you know how to do this, if anything needs to be in your info literacy toolbox this is it).
I am lucky here, because it finds a few places where others have used it, and last (why last) is my original:
That attribution was done in 1 copy/paste with my flickr cc attribution helper
Now I know when I took my own photo.
I'm a bit honored and curious to see other sites that used it. Let's wander…
From Build Direct, a post on manage water irrigation and drainage (if they only knew how poorly my hoses worked!).
They do have attribution, but its very limited. No links to the original. You could not find the original if you wanted to reuse it, you would just lift it from here? They mention "A" (author, me) and hont at the source ("Flickr") which 1s non specific.
If I was grading this attribution, using the TASL rubric, it would be pretty low, like a D.
Next, from a Homes and Land Infographic on How to Save Water and Improve Your Garden my photo is in a gallery under "Soaker Hoses in Action"
It's got nary a T,A,S, or L. This one gets an F. Sorry.
Nest is an entry in the site all about words, a wordnik entry for "groggily". I was a bit stunned until I read my own caption for the photo, where I used the word for how I previously watered my garden with a hose.
Finally, a little bit! Wordnik links to my original, which to me, is The Most Important Part, and the title is there under the image alt text, so it comes up with a hover. I'd have to give this ne a C+ or B- (I am an easy grader if you try, sorry Yoda).
The next link was to a site called Mekobre I can only guess the purpose to be a link farm, to get you to click on ad links. I could not find my photo, so this would be a grade of N/A though I can see from the other photos the only attribution is a text caption of the domain of the source. I doubt their would get better than a D-
The last find was on the Keywordhunt entry for garden soaker hose. Again I am guessing here, but it's probably a tool people who are eager for SEO use to find terms related to something they are selling:
I thought at first it was limited, because the rollover of my thumbnail looks like it linked to the static image from flickr, but it does have more info when you inspect: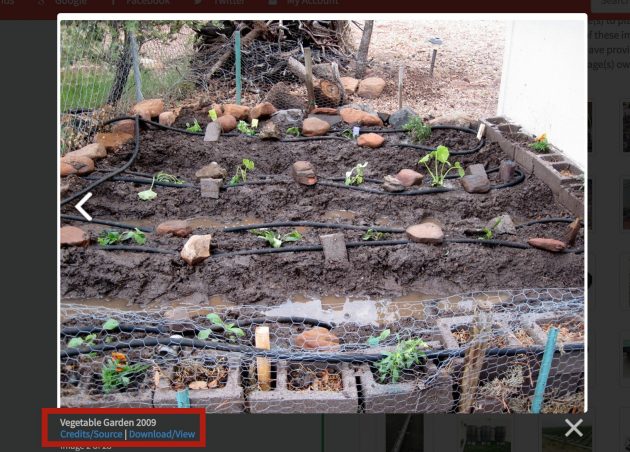 They do have verbiage about "respecting the copyrights of owners) and in the popup include the Title, the link to Source (which one might try to claim gets you to the Author). I'd give this one a "B", which is almost grading on a curve compared to the other ones.
This was interesting, and it gives me an idea for a CC Certification Quest to do a similar exercise.
Thanks Jenni for sending me looking! That's why I consider the human links to most important ones.
---
Featured image: "Permutation indices 3d numerical" by Maschen is dedicated to the Public Domain using CC0