One year ago I drove to the local Humane Society animal shelter in Payson, carrying the cocktail of excitement and nervousness.
After almost 8 years of being without a canine companion it was time, enabled by my starting of an 18 month contract project that assured me work from home. I'd been the Dog-less CogDog. No more.
I had looked at the dogs available for adoption on their web site and saw some prospects. It dawned on my during the drive that I had never even been to a shelter before! They offered me to look around when I go there.
The first dog I saw in the corner cage was barking loudly, but had interesting colors. He was not one that was on the web site. There were two cute black labs, named Batman and Robin. I was very tempted by labs.
The first dog I got a chance to meet I think was "Buster" some kind of Australia cattle dog mix. He was friendly, playful, and I felt comfortable walking with him. I almost said "yes" but then thought, "this is how you always buy a vehicle, one test drive and buy."
I asked to look at that first dog I had seen, the loud one with the mottled colors. His name was Felix. I remember going in the yard first with him, and one of the aides telling me what they knew of him. This is what I knew.
I sat on a low curb, and Felix walked over and leaned in to me hard with his body. He chose me.
I knew the dog I wanted. But I wanted to give any room for second thoughts, so I told them I needed to prep my house (true) and I would return in two days.
So technically Felix's "Gotchya Day" (thanks Pat Lockley) is April 6. But Felix had his veterinarian appointment today, so afterward, I took him over to the Humane Society so visit the friendly folks there.
They of course remember Felix, and he put on a show of excitement and yowling out loud, what he does more and more when he is excited.
1 year since @felixadog came home from Humane society. Return to say hello, make donation (inspired by @patlockley) pic.twitter.com/PcnKQxhztw

— Alan Levine ? (@cogdog) April 4, 2017
I cannot say enough about the Humane Society Shelter in Payson and all they did to process the adoption (and process me). I must have gushed something today like, "You have no idea what this dog means to me."
You want data? How about 717 photos of Felix posted to flickr in that year?
According to today's visit, Felix weighed in at 73 pounds; he has grown since he was only 54 pounds a year ago! ironically, from all the walking we have done, I have almost shed the same amount of weight he gained.
This photo, taken, April 7, the second day Felix was home with me, may be my all time favorite
It's become (cropped) my avatar in most places. Bryan Mathers made it into a graphic for me: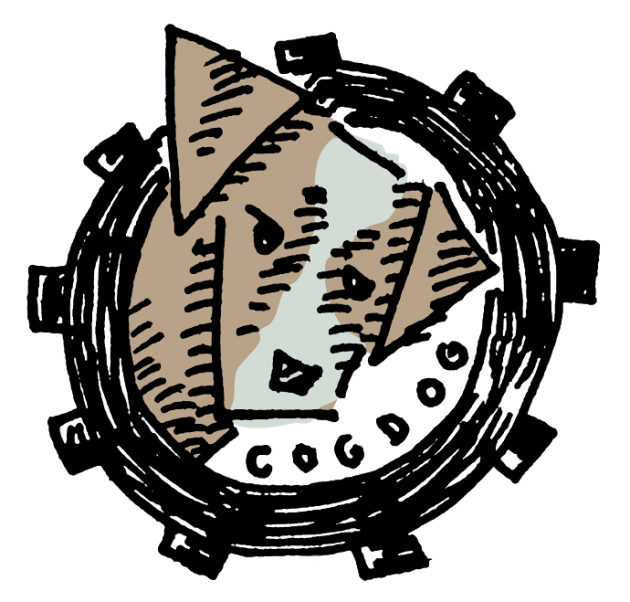 It's likely to be etched into an arm soon ;-)
A month later my sister sent me a water color painting she made of that photo! It's now framed in my bedroom.
Most people, with help, get his name right: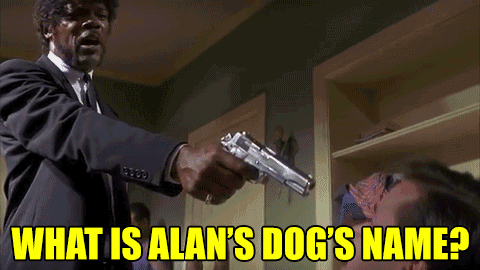 I could write another 10,000 words about all the things we have done this year. I will spare you (it's in the captions of the photos!) But every day, he puts things into perspective:
700 photos and a gushy blog post do not even come close to the spirit of this humble dog.
Thank you, buddy.
---
Featured image: combo of my own photos from April 4 2016 Meeting Felix flickr photo by cogdogblog shared under a Creative Commons (BY) license and today, April 4, 2017 Waiting for the Doc flickr photo by cogdogblog shared into the public domain using Creative Commons Public Domain Dedication (CC0)