Just for the heck of it, a revival from the summer of 2013… It's time to get in shape.
Sergeant Hulka is here to say more…
(ignore the date and old URL at the end, see below)
We give you a ds106 daily create summer creative challenge– because your creativity has gotten FLABBY!

Do you do anything more than clicking like buttons on Facebook or retweeting other people's memes? Who is ready to go to Creativity Bootcamp?? Make something every day, your own art, 15 minutes per day. Are you THAT busy? Too busy to make art?

You? You? YOU? DO I NEED TO NAME NAMES? YOU DONT WANT ME CALLING YOU OUT ON THE GROUND TO DO PUSHUPS DO YA? AM I YOUR MOMMA?

See how many ds106 Daily Creates you can do in June 2017. No prizes, badges, or any crap like that. Just the reward of getting your creativity back in shape. We are not counting.

Challenge yourself. 7 is good. 10 is good. 30 is good. 1 is good.
That's right, set a goal. Follow @ds106dc or check in daily at http://daily.ds106.us/. Get your orders every morning. Get out there and make art, do not turn on stuff you google.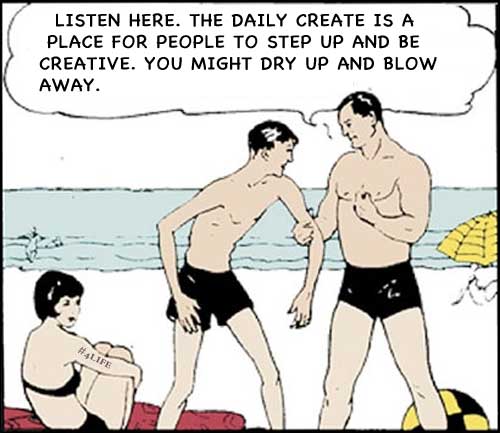 Don't be the skinny uncreative kid on the beach.
Get warmed up an stretch yer muscles in the next two weeks, because we hit it hard June 1. And if you are already on the obstacle course, send us some ideas for good DS106 Bootcamp Daily Creates.