I'm a big proponent of using images with my online writing, all of my blog posts start with an image before I even write.
But sometimes you do not have access to upload images, but with a little bit of know how you can sometimes insert them. This happened just today to Danny, a participant in Ontario Extend who had posted his response to the Collaborative Dining Activity.
The editor does have an insert image button but it does not allow uploads directly to the site:
What this button asks for is a "source" …
… where the source it wants is a URL to an image that exists elsewhere in the internet. That's maybe not well understood.
This sometimes means image hotlinking, not always the best approach it you are using a link to some other web site. This is not always kosher, because the image may someday be removed, but also, it might mean you are putting a demand on someone else's web server.
You can find a raft of free services to upload images and then get pubic URLs for them. But this still makes you reliant on a third party.
But it's legit to do if it's your image and you put into a place you manage. Here are a few options. You may know more.
I upload all my photos to flickr, let's use as an example this resilient dog I know.
I will download the large sized one to use as an example.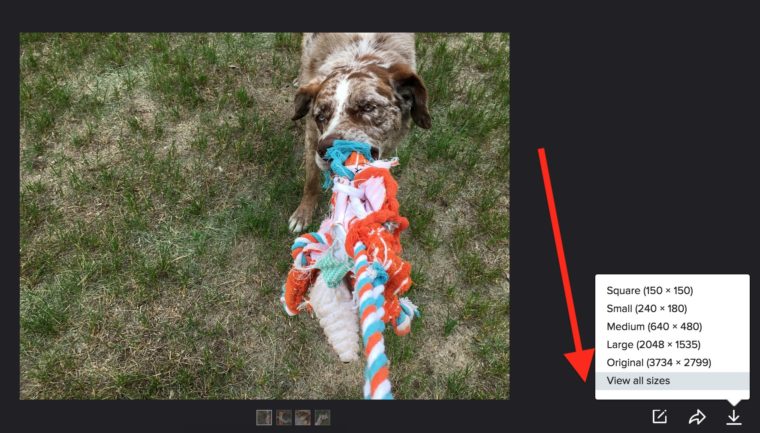 Since I have my own domain, I have the ability to just upload it to my site using file transfer tools. I keep a directory on my cogdogblog.com domain for such "stuff", so I can put Felix's photo there and use this URL anywhere a site expects an image
http://cogdogblog.com/stuff/felix-tug.jpg
Copy that url to a new browser window, and load it. Hello Felix!
Not everyone has their own domain, but if you do have a blog, even a free/hosted one, you have a place to store media. Since I have a blog, well several, (and hopefully you do) I can upload my photos upload it to my blog. In a WordPress dashboard (the black menu interface), I can go to Media — Add New
Once it's been uploaded, way over on the right is an "Edit" button
And from here we can find the image's File URL
And after all that, my next example. I can use this anywhere on the web, like the Extend Bank's Image Source.
http://cogdogblog.com/wp-content/uploads/2018/06/felix-tug.jpg
Sometimes in a pinch I might just be editing a post, like this one, or just start a new one that I later discard, but still use Add Media button, all just to add an image to my library.
I actually just skip inserting the image, but once uploaded, again, on the right side, I can get another image URL
So any place I have a blog, I have a place I can generate a URL for an image, here from my self-hosted WordPress blog.
http://cogdogblog.com/wp-content/uploads/2018/06/felix-tug-1.jpg
I cold also use a WordPress.com blog, and just upload an image to my library, so I casn return later to grab an image I might want to use later by it's URL
And look! Another place I have my own managed, own place for the same image's URL I can use
https://cogdogblog.files.wordpress.com/2018/06/felix-tug.jpg
Goggle blogs provides this, maybe a tad uglier, but still..
https://2.bp.blogspot.com/-MwHKBDgXyiI/WzEjz_WXx0I/AAAAAAAADLU/0tuFgFM-GgkGfI2rWZrZYifcpK0M5mpjgCLcBGAs/felix-tug.jpg
Same photo, I might put in my Dropbox, I can create a public link:
https://www.dropbox.com/s/yv29kjiwrgz2mrt/felix-tug.jpg?dl=0
Hey, same dog, same photo, but a different URL. But one I own.
Maybe I am polluting the web with Felix's photos, but this is now a permalink "a permanent static hyperlink to a particular web page or entry in a blog". One I control, not someone else.
I can decide to make it permanent forever, or remove it. It's mine.
All of this is maybe way too long an explanation for Danny's response, which initially had no image. But Danny did have a picture. And there is another way, which is asking me for help, so I added his image.
Either way, using images us important in communicating online, and getting a bit more savvy about how to use image URLs might come in hand.
---
Featured Image: