Dear Mom and Dad, where ever you are,
I know you cannot send letters any more, but trust you know what's in mine. Maybe you can read blogs?
These August 27s keep rolling by, extending the time, though not fading the memories of when you were on this earth. Seventeen, Dad, and seven years, Mom, since you've been gone.
Damn.
Damn damn.
I even have to rummage more to find photos I've not used before. I liked the one of both of you on the Ocean City beach in 1988, hard to imagine this was 30 years ago, before your move to retirement in Florida. From the same beach of our annual family trips, all of us in that tiny Surfrider apartment. That beach is always a warm memory I can reach in my mind.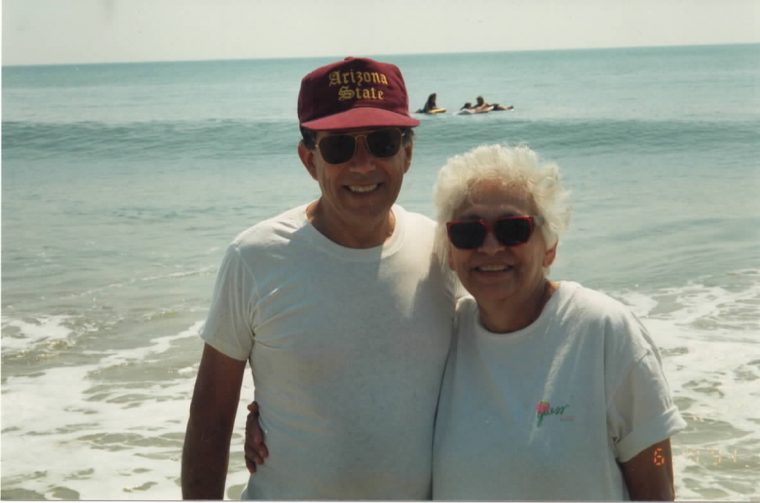 So you should know how happy I am here in Canada, which would have still been far in geography from your Florida home, but never in the heart. You would adore Cori and her boundless energy and love, you'd enjoy the circle of family we have with Jessy Lee. Felix would light up to greet you. We'd welcome your visits (in summer!) to our house together, seeing it become a home, and how we are converting a boring yard of grass into a forest (maybe in another 30 years!). Sorry Dad, I'm not doing as well as you picking the weeds. And Mom, I've upped my baking to pies, though not yet cookies.
In time.
In deep long time.
I miss you.
You are both in my heart, in my mind, and I can see you as I knew you. In the sky. With much love,
Alan
---
Featured Image: Photo of my parents at Ocean City MD (1988) combined with Delicate Arch pixabay image by skeeze shared into the public domain using Creative Commons CC0.