I've done my fair share of railing against entities that destroy web sites, be it Wikispaces, Storify, Google… today is my turn to be the reaper.
As far as I can tell, Feed2JS my long running web service that enabled ordinary humans to insert dynamic RSS feed content into web pages, is kaput. I've been unable to diagnose, but it seems to be an issue with cURL command inside the MagpieRSS parser library. This PHP code was released in 2004, so its startling it worked this long.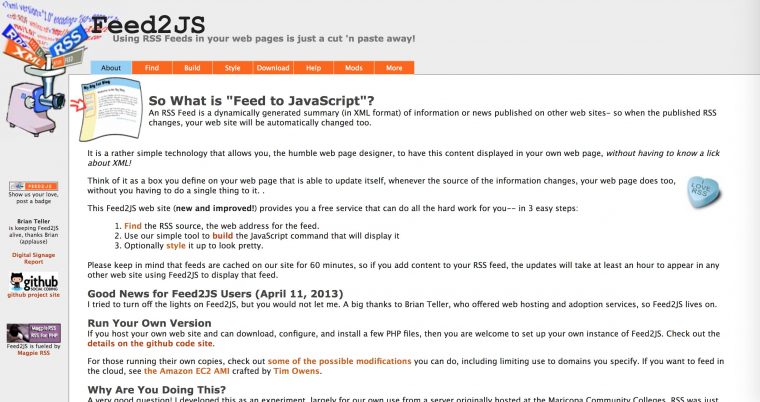 This all started in 2003 with a bit of hacking of an idea done first by David Carter-Todd in ASP, and first known as RSS2JS (here is the oldest snag Oct 2003 from the Wayback Machine). It predates thos blog, I have some early posts from May 2003 when I was first working on this.
I ran it for a decade on an Apple server at my office in Maricopa, but then it needed to move when I left my job there, and I had one volunteer take it one for a while (sorry I forget who and this is inside CogDog baseball).
The thing is the site has been running since 2013 on a server set up by a nice guy in Maryland named Brian Teller. I've been unable to reach him in any channels (yuck, I even slimed into LinkedIn); no response to emails, his twitter and facebook are gone. I don't have ftp access to the server, so I cannot even post an update, or change the output to provide a message.
As of now, it means any web pages that include it will either have blank spots or just long stalls.
The thing is the domain renewal comes up on June 30. I was going to let it go, but maybe I will renew it and take the site back so I can post a proper post mortem. Just need to see if it will kill my hosting service!
15 years of free service is a pretty damn long web run.
I was really ready to just let it go and leave the tattered web, but it bothers me to do the thing I complain about– break the web. I've written much about the web being a fabric and we ought to take care of the tatters we weave.
So just in the process of writing this, I have decided to see what I can do about preserving the site, even if the code no longer works.
If anyone has the chops to help figure out the problems with the code (besides it being old and sloppy 1990s learning PHP code), grab a copy from GitHub. The test parser works, so it seems to be another issue, maybe with https feeds which were not much of a thing then.
Okay, no funeral today.
I will not be part of the web breaking.
---
Featured Image: Generated from the Custom Tombstone Maker edited to include the Feed2JS logo I made myself. Call it public domain!