Nine years ago, an almost random brushing of one person's story, even if immortal, so brief as to leave almost no remnant, ripples back again.
Just because I left a little shred of information here in the blog pile. That someone far away could find. At once time this would be turned into a video and tossed onto the pile of Amazing Stories of Openness.
Were it not for almost a random series of unrelated incidents, I'd never looked into the life of a Tasmanian World War I soldier Kevin Gavan Ray. That story is mostly shreds but at last now, thanks to a needed dose of web serendipity, there's a least a poem to add to it.
Just sit right back and you'll hear a tale, a tale of a fateful trip… no not that tale.
In early December 2011 I got an unlikely opportunity to fly to Melbourne Australia to do a digital storytelling workshop. Just saying that makes me feel like I am talking about a science fiction story where people go in planes to travel around the world (For what it's worth, LA to Melbourne was at that time the longest single hop flight).
Even that I was going needs to be wound farther back a few months early, on my round the country road trip, I visited Sheryl Nusbaum-Beach in Virginia, who ran (and still does) the PLP Network. The story she told me that her colleague and partner, Will Richardson, quote unquote didn't feel like flying to Australia to do keynote at their conference. So she offered the keynote spot to me. The joke was it was because I had a pony tail like Will.
Even more irony- earlier in that trip when I drove through Northern New Jersey, Will was too busy to meet up.
So I got a free trip to Australia. I decided to tack on another two weeks; I visited a colleague I knew from Maricopa who moved Down Under (I got to see the 12 Apostles), I got to pal around with my DS106 friend Rowan Peter Peter Rowan in Melbourne, where we visited a giant Theremin and we had a fun tease of MOOCs (MOOCs on Ice) and George Siemens (the "Skate With George" plan never happened). And of all things I got to visit Rowan"s house and carve "cogdog" lawn art in his grass, all while wearing a Canadian hockey jersey.
The story has not even gotten weird yet. And I am wandering farther upstream than I needed to.
The next part of a trip was a hop to Tasmania where I wanted to see because my first visit there in 2007 I was deadly sick. And then I found out Nancy White would be in Hobart as well at same time, and on top of that the ASCILITE 2011 conference was there on the same dates, so I would get to connect with a batch of my kiwi colleagues.
All of this leads to December 8, 2011, when I had a chunk of time to do a favorite thing, wander around a new location with my camera. Just random walks where curiosity leads.
As it does, I wandered down Soldiers Memorial Avenue, which honors Tasmanian soldiers who died in World War 1. There's a special tree planted for each soldier, as well as a marker.
There are hundreds of them, each numbered sequentially, so I went on the hunt for my #ds106 obsession then of collecting photos of the number 106 (yes there are almost 500).
Thus I found this marker for Kenneth Gavan Ray:
I blogged about this little adventure, even recorded myself reading the story, or what there was of it, of Ken Ray.
There was not much info I could find then, just that he and his three brothers all fought in the same unit in France, and Ken died there wonder in battle, taken to a hospital, and it seems like everything got blown up. There seemed to be some question about where his body was, but the other soldiers unit confirmed Ken had died there.
And yes, if you search on this soldier's name, the first few hits are some records in the Australian War Memorial that have almost no information. And maybe 2 links down is my blog post.
That was the last I had thought about Kenneth Gavan Ray.
Until I got a blog comment this week, nine years later from Ben Wilburs.
What incredible serendipity! I've been doing research into a poet named Oscar Walters, who was from the same unit as Ken Ray and wrote a eulogy for him, and my search for more information about Ray has led me straight to this post. I am astonished that of all the trees in this walk, Ray's happened to be #106, and so you happened to take a photo of it.

Walters' poem for Ray can be found on my website, at https://benwilburs.github.io/westraliana/owalters/poems/kenray.html. I have borrowed your photo of Ray's plaque.
Oscar Walters was a soldier in the same unit as Kenneth Ray, and eventually became a newspaper writer and is known for poems he wrote about the war. This is the poem Walters wrote "Ken Ray. Killed in Action." that was published January 2nd 1917 in Hobart's paper, The Mercury.
1

2

3

4

5

6

7

8

9

10

11

12

13

14

15

16

17

WHERE

the

trees

are

torn

and

dying

And

the

battle

-

planes

are

flying

,

Where

the

star

shells

split

the

darkness

;

He

is

sleeping

peacefully

;

And

the

howitzers

'

loud

screaming

Shall

not

wake

him

from

his

dreaming

,

Where

the

hearts

of

men

are

tested

Grandly

did

he

stand

the

testing

,

But

for

ever

he

is

resting

,

Where

the

shrapnel

shall

not

find

him

And

he

cannot

see

the

flares

;

Deep

his

sleep

but

great

his

glory

,

Brief

is

his

immortal

story

:

<

q

>

"

Only

say

I

fought

for

freedom

In

the

trenches

at

Pozieres

."

<

/

q

>
On Ben's web page with this poem, he writes:
Kenneth Gavan Ray was a sapper from Hobart who served in the 13th Field Company Engineers alongside Oscar Walters. He was killed in action on the night of August 4th 1916, at the age of 21. He served with his three brothers also in the same company, and though they buried him on the night of his death, in the confusion he was officially declared missing and it was not until mid-1917 that he was confirmed killed in action. His gravesite was lost and has not been identified.
That seems to be the most anyone knows about Kenneth Ray. Somewhere in my searches I found what looks like his enlistment papers, which is covered in old fashioned hand written annotations, his unto name crossed out. And I wonder if that D2S758 taped on top is a death record identifier.
I like how he listed his age as 20 & 3/12. His next of kin was his father.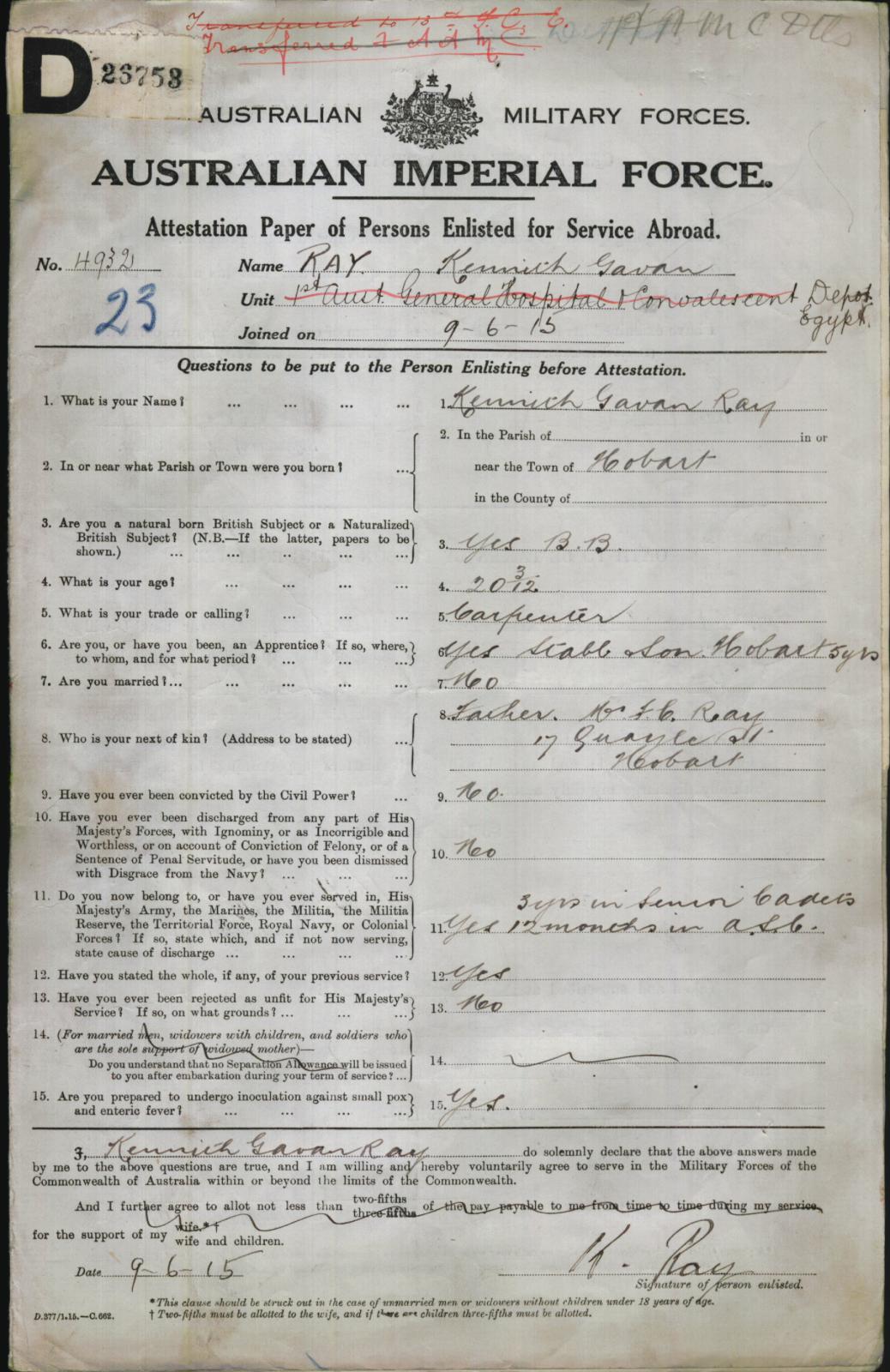 So Kevin Gavan Ray signed up for war duty on September 6, 1915. And he died less than a year later, August 4, 1916.
Oscar Walters's poem nails it:
Brief

is

his

immortal

story

:

<

br

>

<

q

>

"

Only

say

I

fought

for

freedom

<

br

>

In

the

trenches

at

Pozieres

."

<

/

q

>
And that is said.
Again, there is that question. Who will find and tell your story? What traces will you leave? Maybe a pile of twitter thread and instagram likes?
As always, I treasure, crave, the web serendipity of this seemingly mathematically improbably connections. And they happen because of the traces I leave in flickr and here.
My story may not be immortal, and on the scale of things brief, but I plan to do more than leave my story to others.
---
Featured Image: Animated Gif of my photo In Memory of Kenneth Gavan Ray flickr photo by cogdogblog shared under a Creative Commons (BY) license fading to a cropped version of an image in the ANZACs national archive (but the link never opens for me)