This moment is familiar. A series of thoughts having swirled around the brain space, whispering, there is something here to write about. The thoughts often lack a destination, so this is not writing with a planned plot, but one that may emerge.
The other thoughts the first one keeps bumping into is the sense that this form of writing, reflecting, that was once The Thing, blogging (the unedited voice of a one person, so wise Dave Winer) is passé in lieu of clicking like buttons, tossing threads, heralding s*** like Web3 or pondering slapping NFTs on something I just belched. But just because "all the other kids are doing X" never made it the right reason to give up Y.
Yet it matters still to me, and the lights remain on in this space, regardless of it being seen, commented. The joy, the payback of writing for me happens in the act of doing it, not the exhaust fumes or analytics it generates.
And if was going to answer Curley's question it's the arc of digital photography from the seeing through the camera to tossing it into the digital open waters.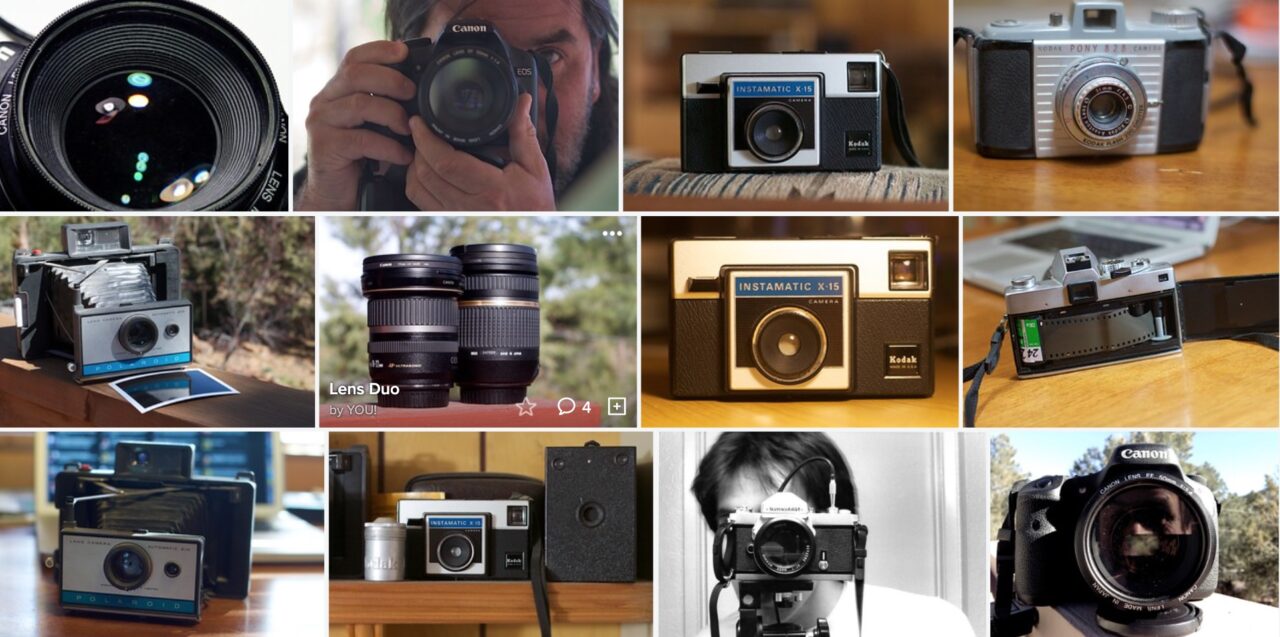 In case you are not familiar with my indirect citation to a scene from City Slickers
Curly: Do you know what the secret of life is?

Curly: This. [holds up one finger]

Mitch: Your finger?

Curly: One thing. Just one thing. You stick to that and the rest don't mean shit.

Mitch: But what is the "one thing?"

Curly: [smiles] That's what you have to find out.

Washburn, Curly (1991) https://www.imdb.com/title/tt0101587/, To argue, Mr. Washburn, we are not limited to just one, but that's another unwritten post.
It's the time of year to assess a "one thing" as I wrap up year 14 of my "daily" photo habit, trying to take photos every day, and posting one to a flickr album. Getting it perfect is not Curly's point, it's the sticking to it. This may be my most imperfect year, as I am headed to be 41 short! Usually on January 1, I make a new album, update the flickr group, and start it again. I usually comb through the archives and maybe recoup 20+ dailes that missed being added to the album or just forgot to tag correctly.
Given all that 2021 was dumped on, us, I think I will just wrap year 14 and start 15.
Taking the photos, chasing light is part of the enjoyment. It's one of the many significant things in common that attracted me to Cori and so a majority of those dailies are us walking just around our acreage.
But there's more, and I am finally getting to the point of my thoughts. There is something about the "size" of the content of a photography plus a title and a bit of descriptive narrative, a few tags maybe that make it somehow a bit of potential serendipity creating when shared openly, with a license that lets use it how that see fit.
And I blab often here about the way this digital content works as a creator of to me, the magic sauce of web serendipity, be it Felix's photo being used for a Belgian start up's dog treats or how a pre-web photo of my old car in Death Valley for the second time wanted for art of a musician. Those stories of photo reuse are gratifying and my experience is there is an order of magnitude more reuse I don't know about (which is ok by me).
Yet, after writing all this, I am still circling on my thoughts, maybe a chance of never arriving? But it's the idea, to me, that. among all the possible digital items I might create, it's the photo that seems to be of ideal size and potential use that makes it act so "connectively". And it's not just what is in the photo, but what it can trigger at least in me, the unexpected potentiality.
Maybe I can unravel one. I saw a link to one of my several web sites I had forgotten about a bit, I had set up Barking Dog Studios as both a portfolio of sorts for my favorite photos but also some WordPress experimenting where all the "content" for an entry was extracted from the metadata of a single uploaded image.
As a sidenote, this was a child theme for the GraphPaper Press Lookbook $ theme I had access to for a while. It had this feature where you could assemble photos shopping cart style into a downloadable custom PDF "Lookbook" – it had been spawning errors for a while, and as that bothered me, I found a solution to enable the HTML5 parser in the dompdf library. Add that to my list of joyous web pipe bangning.
Oops I went on a tangent.
Because it is fast, I added like 25 photos as new posts in like 45 minutes. The funny thing was in going through my old photos, I found a batch of maybe 20 taken in September that I had forgotten to upload to flickr (c.f. Levine, 2008, No Rules on the Daily Photo Method).
This was from a beautiful autumn hike Cori and did up in the aspen trees that line Lake Diefenbaker. a one break, I remembered that the Camelback day pack I was wearing was rather… old! I told the story (likely repeated for the third time) to Cori.
As a Geology grad student in the late 1990s I had hear about, bought, and used well for field work one of the first generation Camelback units. I remember hearing about them being the first consumer models of ones that were made for the military. It was just the water bladder in a black sleeve, but I had found a backpack harness designed to make it into a backpack.
It was the summer of 1990 I had spent living in Flagstaff doing some grad research arranged by my advisor at the US Geological Survey. I was drawn to the style of camping gear sold at Peace Surplus it reminded me a bit of the funky Sunny's Surplus store on Liberty Road that I loved in my home town of Baltimore (it's gone but is in Wikipedia).
I was intrigued when I saw that new red Cloud Walker Camelback for sale in Peace Surplus, because it both had a larger water bladder than my first one but also it could carry more. I bought that one in 1990 and hiked with it many places (here's a shot from a 2006 on the Tunnel trail, Mogollon Rim).
Another story jump, stay with me. In 2013 I had a series of work travel in the midwest and northeast US, and it looked feasible to make it all a connect travel by train, a welcome break from the routine of plan travel. My start was a 4:30am departure from Flagstaff, Arizona, so I arrived a night early. Do I remember? Maybe, but there is a photo with details in the description, when I walked over to the station.
After checking in to my hotel I realized I forgot to pack a belt! I figured Peace Surplus was a good place to find one (and it was). The store is across Milton Street from the train station . When I was checking out from Peace Surplus, making small talk, I said to the young clerk how I remembered buying a backpack there in 1990 that I still used. She smiled and said, "that was before I was born!" Thud, I had turned into one of those old adults. Still, it made me smile.
And so I still use my 1990 Cloud Walker pack for day hikes here in Saskatchewan. The front zipper pocket is busted but it still works. And heck, in a few clicks, I found a replacement on eBay for $25 (that is less than I likely paid in 1990).
What's my point? Maybe none. But to me this bit of weaving is all about links, and memories, many of them enabled by memories triggered from photos, but also how easy it is to look up the web site for n old store, find a Wikipedia article for an even older one not even in business, even find an old item for sale on eBay.
This is to me how the web should work, associative trails in action, some of them enabled by bits I made, many of it from bits others made, all there available, connected but also not directly, flowing through my experiences.
Photos are maybe not necessary in this trail making, but for me, they often are part of that mix. So I will be re-setting soon for year 15 of doing my best at doing daily photos, likely falling short of perfection, but just trying. That's the "photo" thing for me, Curly.
---
Featured Image: