Am I off my blog game or what? Can I blame Musk? Nahhh.
D'Arcy Norman is on his game, and he observed how old his blog is– 20 years! That was my nudge to check my own blog birth stamp, and find, as often in my career I copied Mr Norman (soon to be Dr?).
So April 19 (now long past) was this blog's 19th orbit around the sun. I took some liberty of updating that first post (often these days it is converting old classic WordPress content to blocks, adding featured images).
I decided to take on a shortcode that my own WP-Posted-Today plugin provides, so it lists all posts made on April 19s. Apparently over my 19 years, I posted 23 times – and none of them marked the occasion (I am consistent in negligence). I was eager on that first blog day- there are 7 posts published April 19, 2003 (I was testing a bunch of RSS stuff, remember that?)
Ok, so I grabbed as a feature image on that first post a screenshot of one of the early iterations of CogDogBlog: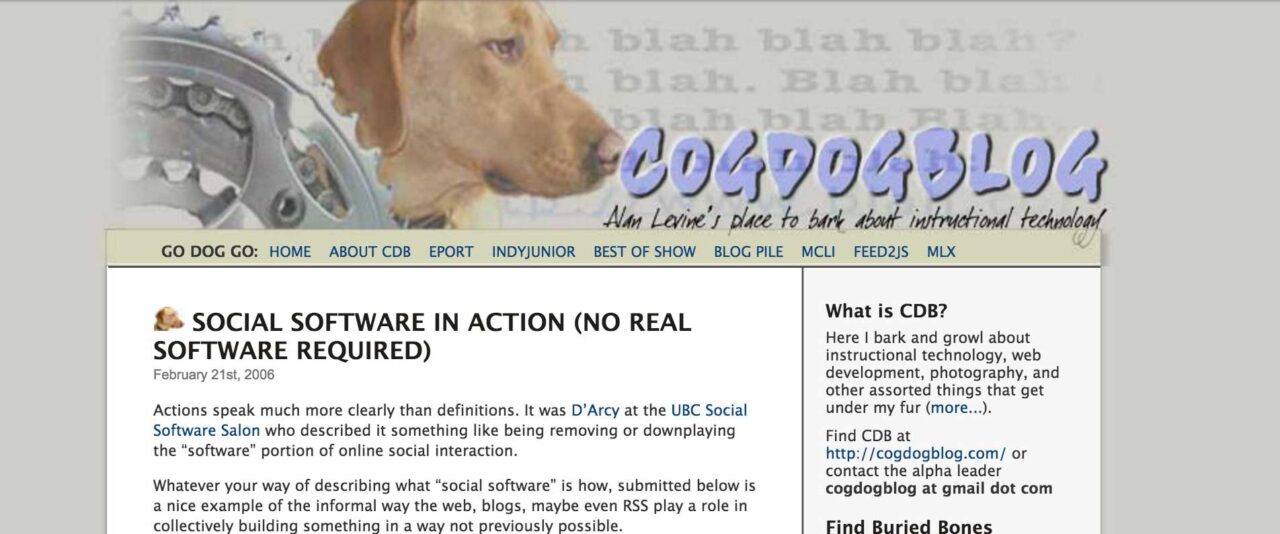 Hey you can find this day in the Wayback machine and I can see I was running WordPress 2.01 and some modified flavor of the old Kubrick theme. I also am proud to see a Creative Commons badge/license there.
It's fitting the post here features one of those web serendipity type stories of maybe the first time I got to see Nancy White present (yay Northern Voice years), and this odd series of events happened because I decided when someone asked if it was recorded, pulled out an mp3 recorder, posted it, and several levels of remix happened with colleagues in Hong Kong (Hi Nick) and Portugal.
And this goes full circle (ah, pun intended, Nancy!) as I have been enjoyed Nancy's blog blitz where she is publishing like 3000 posts she left in draft for years. Because from D'Arcy's post I see that Nancy marked her 18th Blog Birthday on May 1 (I owe ya a catchup email, Nancy!)
D'Arcy is spot on as usual with a perspective on the blog as one's one true home on the net (I congratulated him via text message for being wise to have quit twitter because it's latest drama). As he wrote:
I will say that this blog is really what pushed me in the early days of my Edtech Career™, and what helped me to feel connected to the edublogosphere community. In ways that just didn't happen with social media or birdsites or faceplaces. It's a site that I own, that I am fully and wholly responsible for, that I craft and manage and build and rebuild and tweak and break and fix and break and fix and keep on keeping on and occasionally publish content on.

https://darcynorman.net/2022/05/03/20-years/
And also agreeing with Nancy:
For me blogging is still primarily a place to think out loud together. Since fewer people blog/read blog posts/comment, the level of connection has shrunk. There has been no group F2F for years. But the last four months of regular blogging have reenergized some of those connections. And reaffirmed the value of thinking out loud together. Thank you for reading… and happy Blogiversary to me!

https://fullcirc.com/2022/05/01/from-the-archives-x-years-of-blogging-and-whats-next/
Nancy blogging at 18, me at 19, and Old Man D'Arcy at 20… See y'all at the next decade.
Right here. At Home.
---
Featured Image: