The notion (and act) of shaping your technology1 rather than limiting yourself to what a tool provides still (or always) is resonating with me.
I'm thinking about the width of the spectrum from complete control by code to almost no freedom except what a GUI provides, for me WordPress is my go to for many reasons, but also noting that it's spectrum is uber wide.
One of the simplest and effective ways to do WordPress tech shaping is the simple act of changing what the front of your site does. In nearly most WordPress themes, showing its roots as a blog platform, is the reverse chronological view (often a grid) of posts. There is nothing wrong with this, but for many sites that are more informational than blog-ical, seeing a bunch of posts does not give a new visitor a sense of what the site does, or what it is about.
For that matter there is no welcome mat laid out. Just all the dishes.
Front Pages for SPLOTs
I see this often in the ways people set up SPLOT themed sites meant as a place for your visitors (or students) to contribute content. See for example the default front views for:
There's not any clue or info what the site is for, or any kind of welcome. It's just… stuff. And this is fine. But one of my core beliefs is pushing away from the defaults of what a platform provides. That's what a tech shaper does.
I have taken, when called for, a simple approach of a WordPress setting to change the home page to a custom Page rather than the default Posts view. This changing of the WordPress front door works in any theme. Here's a few examples done in SPLOTs:
This is a key WordPress feature I almost never see used.
It changes the site to one where you build your own front door rather than a pile of posts. In most cases I make use of the Display Posts plugin (one I use on many sites) to add a listing of either random items or most recent ones in the body of my custom page. For the Somni Porta example, I used the WP Tiles plugin that creates galleries of posts from featured images.
I was spurned to write here when Maha Bali asked about using the TRU Writer SPLOT like was set up for MYFest for her own class as a means for students to post responses to her assignments (check it out!). She asked if there was a way to create a home page view more like her blog, a grid of posts, rather than the wide image posts display created by the TRU Writer's parent theme, Radcliffe.
A custom page could do this and provide some context or instructions or an intro to the site. WPbeginner has a nice write up on doing this with the new Query Block built into WordPress or with plugins. I did a hasty demo trying the Query Block you can peek at on the TRU Writer demo site.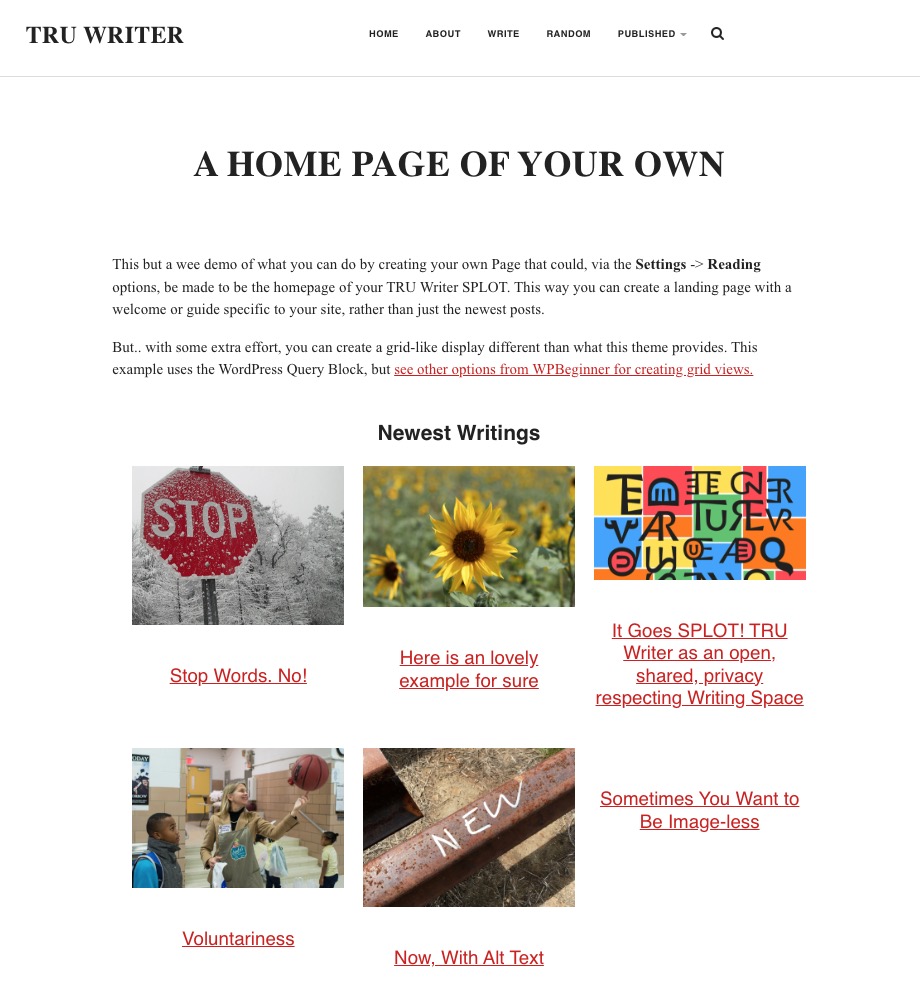 I wanted to try the Query Block approach, and cussed my way through it. I could not get it to size the thumbnails evenly- if I was doing for a real site, I might go the plugin route (Display Posts has some methods to do a grid layout).
The main point is you are never limited to a wall of posts view for the main entry of your WordPress site. You can have a blue door and comfy chairs.
1 Tom Woodward deserves the credit for framing tech shaping and thus earns a rare CogDogBlog footnote.
---
Featured Image: Blue Haven Motor Court Cabin, view 2, Route 1, Saco, Maine by John Margolies public domain image from the Library of Congress