Like most interesting sites, I stumbled across CreativeLIVE from reading something in an RSS feed that linked to the site– so its not what you follow on line, what is key is what the people you follow, follow. Get it?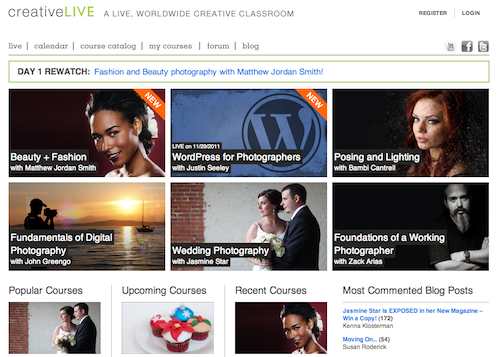 They run free (in person is free) classes creative tools and techniques, with what I find is an interesting financial model. And these are not cheesy one offs of someone standing in front of web cam in their dining room- these look like well delivered courses.
Did I say you can tap into this for free?
creativeLIVE is about providing the best free, live creative education on the web. From our studio in Seattle's South Lake Union neighborhood, we offer free online workshops in photography, video, web and graphic design, app development and a wide array of other creative topics.

All of our live creative workshops are available to watch for free in realtime. Once a live workshop is over, we edit the best of this content into easily downloadable files available for purchase through our online store. It's that simple.
So again the courses are free if you catch them streaming online- you pay for them if you want to purchase full edited versions of the content- what you are paying for then is the refined content, and the ability to watch it at your own pace.
Lest you think no one would pay for what is free, see the 50 reviews for Foundations of a Working Photographer and you can see that many people find the price worthy.
The are using Ustream to provide the video and you can tune into broadcasts or the most recent live one via http://www.creativelive.com/live, such as this one on Beauty and Fashion Photography with Matthew Jordan Smith: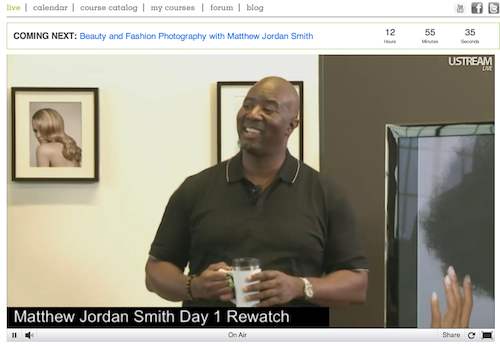 And check out this social media inducement- they run contests for best tweets sent out during a live class. So this would end up creating a collection of worthy material? Hmmm.
In moving about their catalog, you might even find value in the video previews, here is almost an hours worth of the Aperture 3 course you can get right form YouTube
How often education courses offer class previews?
I'd be curious to hear a review form anyone who attends a live free course here or has purchased one of the packaged ones. Note that they are apparently making a business successful by giving away content/learning for free (building reputation). And I'd be keen to see what connections people might make between this model and traditional courses.
There seems to be some things to learn here– in both the content and how it is being produced/delivered.