Just be shear, dumb, web clicking serendipity, I came across flickrStorm:
FlickrStorm is a better search for Flickr!

It works by looking for more than what you enter to find related and more relevant images… Be suprised!
Okay, there are scads of flickr search tools, and it's not exactly clear what this "magic is", but they certainly have been double dipping their chips in the web 2.0 bowl.
More less, you enter a search term and get results as small icons:
Clicking the small square icon (it looks like the first set might be the ones by "interestingness") brings a preview on the right, where you can go to the flickr page for the cute dog picture, or "add to the tray" so it gets saved to a collection on the left.
but wait, there's more.
Clicking the "advanced" link brings a drop down menu filter that can help restrict the results by Creative Commons license, e.g. this search for ones by "freedom" as a term and "Non-Commercial & Share Alike":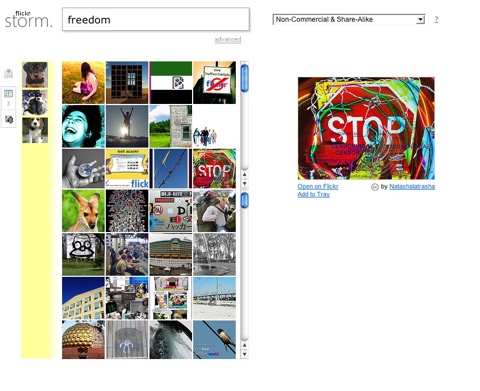 But wait, there's more…
Clicking on your tray provides a single way to download all the images in your tray OR to make the tray available again via a public URL (can you say rip, mix, and share photo sets??):
This was just a quick jaunt done while I should have been eating lunch, but pretty exciting. Maybe it could be something rolled into flickr… their search can certainly use some more spiffing up.
What's the business model? Who cares… probably 'Make Something Cool so We Cn be Bought By Yahoo/Google/That other Company in Washington"
Cannot wait to see more of the promised magic.
A CogDogBlog wag to O'Reilly Radar for this site