I'm only one of billions who loves Google Maps. They find things, you can overlay satellite images. But what if you could really peek in an see what is there?
Now you can* with the Street View option (*in limited areas). You can place a little icon person on the map, and get a fully navigable view of what is in the street! Because the example I saw was in Manhattan, and for a friend traveling there I had been trying to remember a funky bar I used to frequent as a college student there for a summer in the 1980s, I took a tour…. But I could not remember the address of the "Ear Bar" (outside hung a neon sign that read "BAR" and part of it was painted black so it light up as "EAR".
So a little Google search found the address as 326 Spring Street. I go there in Google Maps, and click the Street View map option, and it shows all image enabled streets marked in blie, and Spring Street near the Hudson is lit up. I click my marker there, move west on the street to get near, pivot, and I can see the freakin' Bar!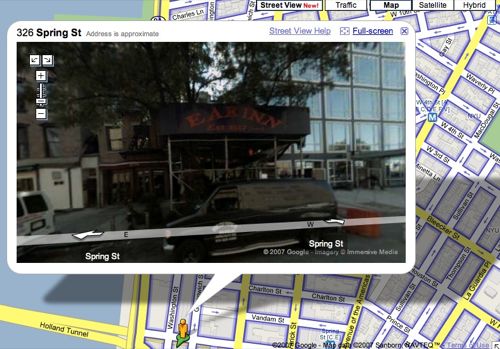 I can pivot the view, zoom on, and use the directional arrows to move the camera east and west on the street. This is just amazing, and takes maps to a whole new level where you can see what is at a mapped location (concerns of spying aside.. for now, just play!)
For some more information on this, see the story at Google Blogscoped where there is also some info on new gadgets called "Mapplets". See also a story at O'Reilly Radar.
Images come from Immersive Media — but where are all these camera?
Linktribution to this find via a random wandering of kotke's remaindered links