I have to admire and respect the radical gusto with which Stephen Downes postulates What Not To Build — it matters not even if I agree or disagree (which I do), is that he puts out there no holds barred, as he has done for longer than some of you kids have known what a browser is. And I always learn things–
My sort of environmental scan is a bit different from what you'll get from consultants and venture capitalists. Don't ask me what companies are developing what products, how industry stocks are performing, or where all the 'smart money' is going. I don't know and I don't care.

What I can tell you, though, is what technologies are working, what technologies are flopping, and what technologies are fads. It's practical, down-to-earth advice. For example, if you are a technology developer, you already know that you should not try to build a new operating system, a new word processor, an online store or an auction site, for example. These have been built and have established a mainstream presence. You would need thousands of engineers and billions of dollars to compete with them.
But when it comes down to it, it is an opinion, based on a lot of things Stephen looks at, but we all carry the perspective of our own goggles. So of course there is going to be a lot of vehement agreeing/disagreeing with his convention that "the iPhone is a fad". And… mostly it is "people who have/want versus iPhones" versus "people who don't/hate Apple".
Even if it is a "fad"– and in technology, for that matter, what is not a fad? What really lasts? What is the staying power required to be "not fad?"… Videodiscs? fad. Floppy disks? fad. 256 color web safe color palettes? fad. Stephen's position seems to be it is a fad if all you think of it as a phone. That's just part of the name, dude.
So if the iPhone is a fad, it is without doubt, IMHO, a game changer. If it were not, why are all the competitors rushing to make clones? Without the iPhone, would we see other phones with multi-touch screens or would it be a proliferation of more years of button machines, sliding keyboards, and horrific interfaces?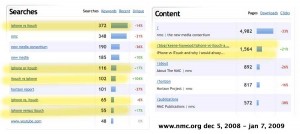 I've been tracking the stats on the NMC web sites this past year with the nifty Clicky service (click image for larger view). Without wavering, for as many months as I cannot remember, the top search terms coming inbound to the main NMC web site have been combinations of "iphone" "iPod Touch".
And consistently over a stretch of 6 months, one of the top 3 or 5 pages accessed has been a May 12 blog post by Keene Haywood Keene Haywood on iPhone vs iTouch and why I would always choose an iPhone. The blog part of the NMC site is hardly used, Keene and maybe 5 others out of 3000 accounts actually publish on this site, but this relatively obscure post (no offense keene) has been a top accessed page for 6 plus months.
That seems interesting.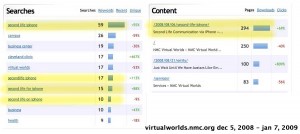 But this is even weirder. (click image for larger view)
Another site, NMC Virtual Worlds, has nothing to do with iPhones- it is about our projects in the virtual worlds space — and here too, we get a steady stream of search terms leading here on "Second Life iPhone" mainly from one post from August 6 Second Life Communication via iPhone— which again has consistently been in the top 5 or so accessed URLs.
But in some interpretations, this is the sign that this is a fad… or really?
In the end, or not the end, I am not standing on either sign of the "fad" sense as I don;t even fully understand what makes or breaks a fad. If it is a fad, it will fade? Or it means other phone makers should not copy it? or they will?
Informally, and when I travel, I watch the people using iPhones. They don't look like all geeks, or Apple heads, just ordinary folks.
And I find my access to information is changing with the iPhone. You do get accustomed to being able to have access to email, the web, RSS feeds, twitter where-ever you are (that gets a signal). This, yes, is not unique to the iPhone, but BI (before iPhone) I don't recall so many people getting the web in a web browser on a phone; it was always a stripped down WAPpy web.
Looking at the innovative developments with the accelerometer, the camera/microphone as an input device, the integration of portable apps with web content… seems more ripe for expansion than fade to fad-dom.
I await the response ;-)
Related articles by Zemanta