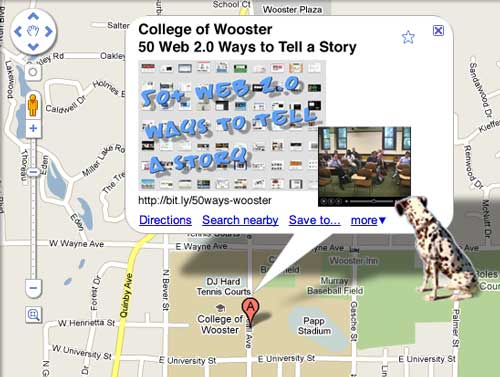 Jon Breitenbucher invited me back again to do a remote (via Skype) presentation on 50 Web 2.0 Ways to Tell a Story for the week-long Instructional Technology Faculty Fellows program he and his crew run at the College of Wooster (by the way, they are rocking with wordpress multiuser there).
When I did this last year, it was one of the best sessions I've had; a lot because Jon's team had prepped the faculty, so they already had done some pre-work to pick their story idea. The way we run it is I do the presentation first thing in the morning (wich was really early here on the west coast time!), the faculty spend about 3 hours working with the tools. We then convene after they are done, and they get to talk about what they were able to create (or the problems they had).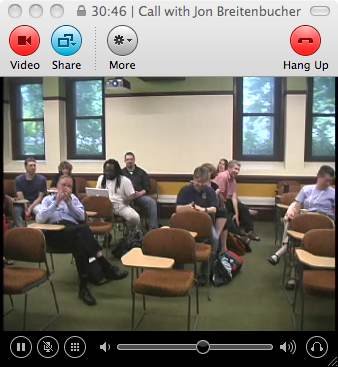 This time around, I used Google Presenter for the slides, and we did me on video over Skype to the group in Wooster. I had a slide deck I'd used before for other sessions, and made all the links for URLs as hyperlinks. What did not work well, and I;ve had mixed luck before, was using it in presentation mode, where me clicking the slides advances it for Jon's computer at the other end. I've had it work before, but this time, no matter how many times I would "take control", when I advanced, the only way to update for them was for me to "take control" again. So we went old school.. me saying "Next slide"
You can see the slides over at http://bit.ly/50ways-wooster and I also have
audio recorded in my Ediro.
I felt bad a few people really struggled with some of the tools- Quite a few of them tried Joggle, one of the tools I rarely look at, someone had issues where Tikatok failed to save their work. It's hard to tell if it is an isolated experience or if the tool is flaky, and I struggle with how to list that on my tools site (I started addind user reports as Devon has told me of problems with xtimeline).
But you can see the great stuff they did on their twitter-like wordpress site http://faculty-fellows-2010.voices.wooster.edu/ — I am mining their as new examples to add to my 50 Ways site.
And one person had a suggestion which may appear as "Larry's List"- he asked for which were the 10 top tools; i've hesitated to do this because it is a bit subjective, but I think its worthy to share which have the combination of best features and likely reliability.
I have some plans to roll out a new 50Ways wiki (already nabbed the wikispaces spot) to make it open for more people to contribute. The current 50 Web 2.0 Ways to Tell a Story wiki is set for me only to edit, since I used it a lot for presentations; I had it open to members for a bit, but someone indvertantly wiped out some chunks.
But I have these ideas for a new more open wiki, and am widely open to suggestions:
All of the existing materials will be moved over there
Put each tool on its own page, have a screen shot, a more detailed description, a list of pros and cons, tags to identify both the type of tools (Slideshow, Map) as well as the types of media supported)
The tags could be used to list all associated tools, so you can more easily get to the ones that allow you to import audio, or ones that use video, or ones that are presentation tools
When people contribute, I will have them use the wikispaces code to add their "signature" to the page as a contributor
Tool pages would be open to edit, so people can add more examples, or modify the description. I really want to have more, and better relevant educational examples.
I'll keep the main list under lock, so as people create new tool pages, I will add them once they have all the "parts"; I'll provide a template for the tool page
I had dreamed of having this ready for this week's preso, but stuff just keeps getting in the way!