cc licensed flickr photo shared by dchrisoh
This year I fell out of NaNoWriMo only 12 days in, and it was a good thing. I could sense form where I was, that my attempt at writing a World According to Dogs novel was maybe at best, a not original idea and not welle executed.
But failing writing about dogs, I'm into some good reading some books, here in my Kindle app, in the "dog vein"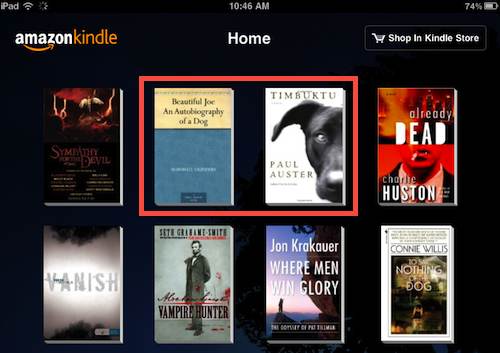 I want to credit John King for his comment that led me to read the marvelous, yet bittersweet, Timbuktu.
In that story, told by the world wise "Mr Bones" we find the dog seeing a parting of the ways with his estranged, yet dog-loved, human companion, the mentally off kilter. homeless, and dying, Willy G Christmas. It was a quick read, yet like a coat of dried mud, I cannot quite shake it. It is, in its unusual way, a love story.
Willy is a stream of conscious firehose, at the end overloaded with all of the world he has taken in (here's my kindle saved clipping)
Understanding. That's what I'm after, chum. The key to the puzzle, the secret formula after four-plus decades of groping in the dark. And still, all this stuff keeps getting in my way. Even as I breathe my last, I'm choking on it. Useless bits of knowledge, unwanted memories, dandelion fluff. It's all flit and fume.
That sense is very familiar for me now!
The second dog point of view book I have just started is Beautiful Joe An Autobiography of a Dog (gotta like the $0.00 price). It's the tale of an abused dog, and it was published back in 1873!
A quote clipped from the opening, on humans and animals (though make a modern gender switch for that use of "manly" to be "humanly":
Kindness to the animal kingdom is the first, or a first principle in the growth of true philanthropy. Young Lincoln once waded across a half-frozen river to rescue a dog, and stopped in a walk with a statesman to put back a bird that had fallen out of its nest. Such a heart was trained to be a leader of men, and to be crucified for a cause. The conscience that runs to the call of an animal in distress is girding itself with power to do manly work in the world.
I'm liking the reading now more than the writing…. Got any more recommendations for dog authored books?

cc licensed flickr photo shared by betta design