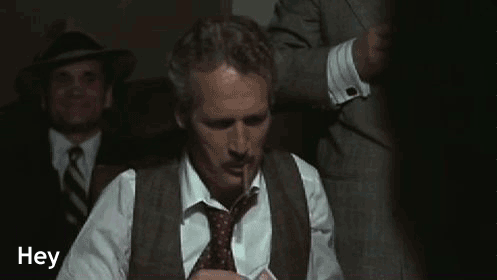 He got there first. Todd Conaway was onto the combination of the MacGuffin Alternative movie ending combined with last year's craze activity of animmated GIFs.
I decided to take an animated GIF I did last time around from the classic card game between Harry Gondorf (Paul Newman) first out hustles Doyle Lonnegan (Robert Shaw) in a poker game on the train. Given I had my originals in a photoshop file with layers, I simply made a text layer of the final line, duplicated it seven times, and then did a progressive removal of text and merged to the original layers to overlay the MacGuffin line.
Anyone can churn out a pile of MacGuffins in a few hours, but who can out dog the Animated MacGIFin?