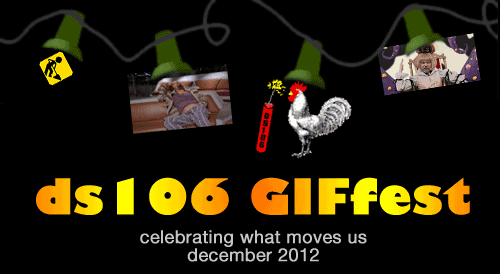 It was two years ago when ds106 was born– and one of the most magical parts was the spontaneous combustion/eruption of people experimenting with new forms of animated gifs.
With my semester of teaching ds106 ending and most others going more into goofy relax mode, I wondered about launching some sort of "event" just for people who might want to gather and do some creating of art, eh? Grant Potter shared a link to a nifty online GIF Festival, and thus, I said, why not do it around ds106? Grant has already started a GIFfestivus and has Andy Fograve.
So here we go, this is how I suggest we celebrate GIFs around ds106.
There are no rules.
There are no prizes.
Just make 'em, blog, em, and share 'em.
Do as many as you can by the end of the year.
Spend your holidays GIFwrapping.
I've modded the ds106 assignment site with a special new type of assignment type for the SGIFfest:
How to make them? Lots of ways. Photoshop, GIMP, MPEGStreamClip is handy for grabbing frames from videos, mobile apps like Cinemagram, web sites like GIFNinja or Make a GIF – just make 'em (and remember GiyF).
If you are not sure what kind of GIF challenge to take on, we have some starters (or try spinning the Big Wheel of Randomness)
Don't like anyone of those? Cool. You can add a new one yourself via the Submit an Assignment form (select AnimatedGIFAssignments). If you want your thumbnail image to be animated, make sure you create a version that is 320px wide or less (otherwise the icon wont move).
Like all things ds106, if your blog is subscribed to by the ds106 site, when your blog your GIFs on your own site, just use the tags for each assignment (e.g. "AnimatedGIFAssignments, AnimatedGIFAssignments857") in your post and it will be attached to the appropriate assignment. If your blog is not part of the ds106 universe, you can either join up with ds106 or use the linked form on each assignment to add it directly (example).
Need some help doing GIFs? We got it. These are by people in ds106.
Well that should get you started! See ow many GIFs you can do before the end of the year? 1, 2,, 12, 39? Does not matter. Make it, share it, riff it, GIF it.