Why was Dorothy so set n going back to drab, black and white Kansas? Was Auntie Em that much of the life of the party? If the truth were told, she would have expressed her desire to hang out with those wild Munchkins: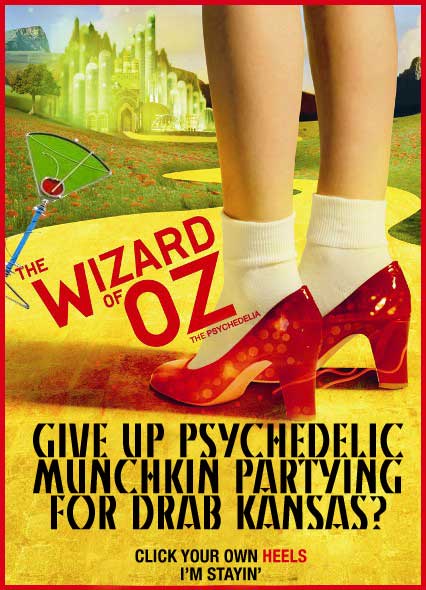 As part of my evolving Dorothy story, this is the ds106 Truthful Movie Poster assignment
Imagine if movie posters told the REAL story about the fillm they're advertising. Redesign an existing movie poster by changing the text/images to tell us the real story. More examples at http://www.holytaco.com/classic-taco-if-movie-posters-were-honest.
Of course, I am making up what is real (cause that serves the higher concept of my story, meh). There are lots of posters out there to work from- I liked the bold motif of a poster for the Tybee Arts Association:
The bottom text was easy to clone brush out in PhotoShop. I went for a few more details, and clone brushed out "The Musical" to replace the text with "The Psychedelia". It's the small things that make a difference right? Right?
For the main text, I gave upo on matching the font and just went with a art style one, Kino MT – the lower text is Helvetica Neue.
And for a crowning touch, I tossed in a spilled Martini glass to lay on the road.