What could be more key and symbolic of the magic of Oz than the red slippers that Dorothy snagged from the Wicked Witch who got mushed by her flying house? The fact that Dorothy always had the magic but did not know it until sparkly Good Witch clued her in.
This GIF is done for the classic ds106 Say it Like Peanut Putter assignment
Make an animated gif from your favorite/least favorite movie capturing the essence of a key scene. Make sure the movement is minimal but essential.
I knew an animated GIF of the shoes would be part of my new story. So I used PwnYouTube to download the video for the "No Place Like Home" clip as an mp4
I opened this in MPEG StreamClip to snag just the 2 second segment of the shoes flopping. I opened it in QuickTime player to then save it as a .mov file (since Photoshop 5.5 cannot import mp4 files). I brought this in using File -> Import -> Video Frames to Layers. Since it was short I snagged 3 frames a second, and from there deleted frames that were not showing much difference from previous frames. Lastly it is exported as a GIF, we get not only shoe movement but some twinkling of highlights: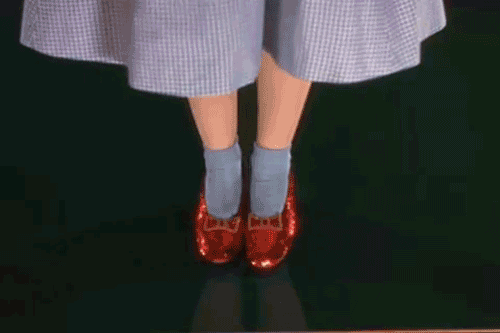 Poor Dorothy might have to click those heels forever.