You don't [usually] pay for an open course. You don't depend on it for a grade. You have nothing at stake except your own interest in a topic. "Failure" and "dropout" are words without meaningful meaning here.
But we cannot help ourselves, Not reaching the finish line is something we apologize for. We measure ourselves not by what we did but we did not do.
Of course my assertions are based way too much on my familiarity with ds106 and all the Coursera courses I failed dropped out of signed up for. Michael Feldstein nicely laid out the complexities of learner motivation in what ends up over simplified- the "Myth of the Unified Course Goal."
Facebook says it better about the student course relationship– "It's complicated".
We've more or less wrapped up a 15 week experiment with a headless ds106 course, culminating in a fantastic final project that was not part of the course design — a totally invented technology with a history and artifacts.
And a cute mascot.
People who contributed a heck of a lot, like Kevin, summarizes his experience as How I fell Off #DS106 and Bumped My Head. Mariana Funes pines for Those She missed. People who out their all into generating an amazing set of group radio show projects coordinated at a distance— apologize for "life getting in the way of ds106".
I am just as guilty of looking at the wrong side of the glass, with my own self berating for not keeping up with an open music class. I feel like I had to shame people into trying a Daily Create remix experiment.
So yeah, the half full / half empty glass is just an obvious cliché.
So here is the shift I am trying, and I ask you to do as well.
It's pretty simple.
Anything and everything and any one thing you do in ds106 is a gain. The ds106 glass is always 0.000000001% full. And among all the other claptrap and mumbo jumbo posturing, flailing, prognosticating about online learning, ds106 is the one place where you can come for a Guilt Free Experience
For yourself, for others, appreciate what the do, and ignore what they don't do.
You know who gets it?
@cogdog clearly I don't do anything I don't want in #ds106

— Tom Woodward (@twoodwar) December 13, 2013
You know who gets it? See Mariana Funes's DS106 in 106 posts and 106 bullets published at 1:06?
You know who gets it? See Paul Bond riffing that into a poster
You know who gets it? The class is over, yet Vivien Rolfe is exploring cropping and reflecting images of trees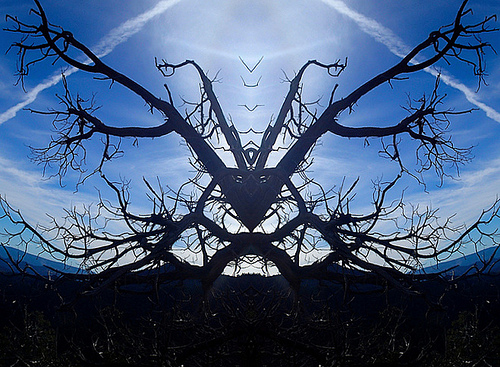 And yes, while I used Kevin's blog post title, he gets it too:
I had heard about #DS106 over the last few years, and even checked out the site from time to time. I couldn't quite figure it out: was it some kind of real course at a college? Or just another place for sharing out of ideas? Or something in-between? A creative community pushing the boundaries of storytelling? Yep, to all of those, it turns out. Yep to all of that, and more. What you make of it is what it is, and for me, what DS106 was was a chance to push myself in odd directions and compose across media lines. Which I enjoyed immensely.
ds106 is and shall be the place to enjoy that partly full glass of openness.