A photography friend is making a trip to the Salton Sea, and I was trying to remember the name of this odd place I had heard about nearby that was worth recommending. Except I forgot its name. The thing I did remember is that a participant in a workshop I helped with back in 2004 at the Maricopa Community Colleges did a beautiful story on it.
And thus, again, I fell down a rabbit hole, partly of my own construct.
Most of the web sites I made while working at Maricopa (1993-2006) are gone now (too many ugly perl scripts writing to open text files), but they have kept this catalog of digital stories made by Maricopa Faculty. Our office sponsored this "Learnshop" (yes, that title was my own crafting), offered between 2004 and 2006.
Led by Scottsdale Community College Linda Hicks and Rachel Woodburn, the experience took faculty through a weeklong process that was right out of the book by the Center for Digital Storytelling — story circles and brainstorming activities, recording of audio, and then finally producing of final stories in iMovie. I came quite a few times to help with the production.
But this was one of those few workshop experiences where every participant produced something memorable.
And yes, this was the Devonian era of digital storytelling (that was when fish left the sea, ok?) so the videos are rather small and low quality by today's standards. But the stories? Wow, I had a great time down that rabbit hole.. Some ones I remember the most…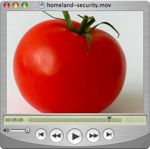 Homeland Security by Linda Larson. I think she may have been an English faculty; her voice is even yet contains those peaks of emotion as she talks about growing up on a farm, where her role was picking the fresh tomatoes for dinner, braving the dangerous spiders. That's where many stories might end, but she took it farther, to the present, as she sadly notes the lack of taste and texture of her store bought tomatoes, and wondering why we have them transported so far when much better ones can be grown on family farms.

I Love Stories! is where LynnAnn Wojciechowicz describes her love of stories growing up, and how it was fulfilled as her role then fo being director of the Storytelling Institute at South Mountain Community College (still going strong). I remember working with LynnAnn (and she was so patient as people learned how to pronounce her last name, its still easy) and colleagues Lorraine and Liz on a few projects. LynnAnne's is more of a story about the program; I enjoyed hearing how she included student voices on her video.

In rather lyrical form, Richard Stewart conveys the summer in Phoenix as Making Do. A great example of an opening sentence that draws you in– "When I wake at dawn to walk my ex-sife's dog, Itchy, I make the sun rise; it would not rise the same way without me." Anyone who has been out in the pre-dawn stillness during a June in Phoenix knows this feeling.

Librarian Holly Beene has a marvelous storytelling voice- in Chihuila she her experience from a visit to Mxiao, comparing the libraries of a wealthy university with that of a small village school. Note her use of vouce and inflection "My heart sings for little libraries at the end of long roads."

Perhaps one of my favorites from this set, Kim-Chuppa Cornell shares her memory of Grandma Chuppa, a loving and dedicated grandmother who would not give in to Kim's childhood wishes for a store bought Paddington Bear. It took more time and living for Kim to realize what a treasure her grandmother's handmade, often misshaped, really were.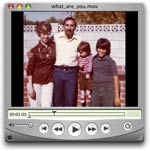 In Who Are You? Jason Zapata Martinez tells of his family experience being of both Anglo and Hispanic heritage. It's told with love and irony, and there is a special memory for me, since it was his father who actually approved by hiring in 1993 at Maricopa. Stories are stories in their own, and then there are the parts we connect with.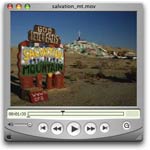 And Salvation Mountain, the memory that led me here, may be one of my all time favorite stories. Bob Galloway was a photography teacher, and I remembered him telling me of trips he would take; often his wide would fly, but Bob would drive the off beaten roads and tracks, to find the most fascinating subjects to photograph. Again, in strong voice, comes an opening that rivets your attention. "Leonard Knight received a vision in Quartzite Arizona… from God." Bob and his photos bring us what Leanard built, and how he did it.
But here is what makes the story, what it changed in Bob.
I originally came here to record this site, with a whimsy I usually reserve for alien landing sites, But my feelings changed as I watched him work and the pure pleasure he gets from this grueling, un-relenting labor. The harder he works, the hotter the day, the more radiant he becomes. I'm an artist. I studied art, I practice it, and I think I know what it is and why. But everything I know gets questioned out here.
I don't know Leonard's God, but when I leave at night and go home, across the two deserts, I can't help but wonder if more lightning strike visions are waiting out there.
And that is what storytelling was, is, and can always be.